Sunday/Monday 4th & 5th October 2015
Alan Kelly Minister says emergency housing legislation could be introduced by Government
FR. Peter McVerry says Minister for Environment can't solve problem on his own
The Minister for the Environment Alan Kelly said modular housing units should be in place before Christmas.
Emergency legislation will be introduced if necessary to deal with the housing crisis, The Minister for the Environment Minister Alan Kelly has has said.
Mr Kelly said he intended to have a "certain amount" of modular units (prefabricated houses) in place for people looking for homes before Christmas.
Emergency legislation, if necessary, would be introduced to fast forward planning, he  said today.
The Minister was speaking after Fr Peter McVerry said taoiseach Enda Kenny must accept responsibility for the homelessness crisis and must now intervene in it as a national emergency.
Fr McVerry said although Mr Kelly, got all the blame for the crisis, he cannot solve it on his own.
At a housing conference on Saturday, the campaigner said the Department of Social Protection bore a large part of the responsibility as did local authorities and the Departments of Health and Finance.
"The Department of Social Protection – their refusal to increase the rent supplement has resulted in over 1,000 families becoming homeless in the last 18 months. So while the Department of the Environment is trying to find accommodation for people and families who are becoming homeless the Department of Social Protection is directly responsible for creating homelessness
"Alan Kelly is trying to empty the water out of the bath but the Department of Social Protection is keeping the taps on full. Other agencies of course who have an input are the Department of Finance. Often the local authorities and Finance are pulling against one another," Fr McVerry said
The Department of Health had a role in causing homelessness as it had "dramatically" reduced funding to addiction services, which caused some, who could not beat addiction, to lose their homes.
"And Nama has a key role to play. All of these players have a significant role to play in addressing the housing crisis. They are all doing their own thing and in some cases are pulling against one another."
He was speaking as the most recent data showed there were 1,275 children in homeless accommodation in Dublin in August, in 607 families. This compared with 780 children, in 359 families, in January.
More than 3,000 adults accessed emergency accommodation in Dublin between April and June – the highest number since records began in 2010.
"So I believe the responsibility is now on the Taoiseach, to call a national housing emergency," said Fr McVerry. "He is the only person who can address this problem and he is the person who has to accept responsibility. He has to declare an emergency and he has to bring all of these players together, devise a strategy. They have to be singing off the same hymn sheet and he has to ensure that they do that.
"Alan Kelly can't do this on his own. The only person who can is the Taoiseach. I believe now that the focus of our campaign should be on the Taoiseach. If he cannot address this problem in a significant way before the election maybe we should have a Taoiseach who can address the problem."
On Sunday, Mr Kelly said: "I welcome Fr McVerry's comments. I agree with his comments to a large extent. I met with him during the week for an hour and a half. He knows what we've put forward. He knows the package and the efforts that are being made by my department."
Women still losers in battle of the sexes
  
Rugby scholarship figures underline second-class status of female sport. 
Ireland's women's rugby team celebrate their Six Nations title earlier this year — but female players are under-represented when it comes to sports scholarships at third-level institutions
There was satisfaction last weekend when the All-Ireland ladies' football final attendance of 31,083 became the biggest gate for any women's sports event in Europe this year, beating the women's FA Cup final between Chelsea and Notts County.
Of course it was a noteworthy achievement but the news that significantly fewer women than men receive sports scholarships in Irish third-level institutions should serve as a crash landing to any lofty notions that we lead the way in women's sport.
From Gaelic games to soccer, rowing, basketball, golf and other sports, stark new statistics reveal that more resources are available to support the combined athletic skill and academic ability of male athletes than their female counterparts.
Although most universities say criteria for independently awarding sports scholarship are based on individual performance and that opportunities are equal for male and female candidates, a Sunday Independent straw poll has found that males dominate the sports scholarships at some top institutes.
These include: Dublin Institute of Technology (DIT), Trinity College Dublin (TCD), Maynooth University (MU) and National University of Ireland Galway (NUIG).
A major disparity in sports scholarships for female rugby players has become particularly apparent. Trinity (last year) and Maynooth (this year) offered a total of 58 sports scholarships to male students, while no female rugby player was offered a scholarship.
Dublin City University (DCU), University of Limerick (UL), University College Dublin (UCD) and Waterford Institute of Technology (WIT) have less blatant divides but males still hold the majority.
Concerns have now emerged over systematic funding imbalance for sporting women in college, drop-out rates among girls in sport, limited awareness that high performance female athletes can avail of sports scholarships and a lack of promotion of these awards in schools, clubs, colleges and sporting organisations. It appears that wider funding issues in women's sport are affecting this and other areas.
Last year, at DIT, a total of 102 students – 94 undergraduates and eight postgrads – were awarded a sports scholarship as part of their Athlete Support Programme. Of these, 80 are male and just 22 are females.
Although this suggests that barely one in five sports scholars are women, DIT stressed that opportunities are equal to both male and female students. A spokesperson for the college said ranking is based on individual sporting achievements, potential to develop and commitment to represent and promote the institute.
"A total of €200,000 has been made available to provide a supportive environment for talented male and female athletes so that they can develop maximum sporting performance in their chosen sport as well as pursuing academic excellence," she said.
DIT sports scholarships programme recognises archery, athletics, cricket, equestrian, karate, gymnastics, motorsport, Gaelic football, hurling, camogie, rugby and others.
At NUIG, 66 students are on sports scholarships – including the 'Performance Points Scholarship' and the 'Elite Sports Scholarship'. Of these 47 are male while just 19 are female. The latest batch of sports scholarships went to 18 males and 11 females.
At UL, a number of clubs and campus organisations offer scholarships to high performance athletes. They consist of a grant, expenses for training, and in some cases gym and pool memberships and accommodation waivers. This year UL GAA offered 38 scholarships sponsored by the Bank of Ireland – 25 to males and 13 to females.
A spokesperson for the college said: "There are no set numbers of male or female scholarships but athletes in all sports compete against each other on relevant criteria to their sport. Terms and conditions for sports vary as they are all different organisations offering the scholarships."
However, former Irish rugby star Fiona Steed believes a key element in the discrepancies is that more sponsorship and other revenue streams are made available to male sports clubs. But she said that this "still doesn't make it right".
"In some places there are less than half female GAA scholarships, and GAA is bread and butter in Ireland as a sport. Inter-county players at underage level would be training and playing to the required standard to be the best in their age group so I find that disappointing and surprising," she said.
"The whole inequality is that businesses need to get behind women in sport before they do the job to enable them to do the job."
Last year, a total of 61 sports scholarships were awarded across 15 sports at Trinity College. Of these, 46 went to male students and 15 went to females, including to four hockey players, three basketball players, three rowers and a swimmer.
A breakdown of the men's scholarships reveal that 30 were awarded in rugby, six in GAA, five in hockey, two in kayaking, and one each in badminton, waterpolo and sailing. Despite TCD being home to a highly competitive women's rugby side, no women were awarded a sports scholarship.
At Maynooth University, 59 male students and 13 female students were named as sports scholars. Of these, 28 are male rugby players. Although Maynooth also has a successful women's rugby team, there are currently no female rugby players on a sports scholarship.
Scholarship officers at both colleges were not available to comment on these statistics.
Former Ireland rugby captain Fiona Coghlan said the findings reflect what is happening in women's sports in general. "It's at every level when you look at how female sport compares with men's and money coming into men's sport at every level. They get more money and that's obviously the same in college," she said.
However, she added that the awarding of sports scholarship also depends on the number of high-level athletes applying for them.
"Girls often don't know about scholarships they could apply for and so they don't apply," said the PE and maths teacher. "I teach girls and I know some of them wouldn't put themselves forward for a camogie scholarship even though they are playing county at the top of their game – they wouldn't necessarily go and seek it because it's not the norm.
"I very much doubt any girl with a rugby background would think she is capable or that there is even an option of a rugby scholarship there for her."
This year at UCD around 140 scholarships were made available through their Elite Athlete Academy and the UCD clubs scholarships and the college says the breakdown was 60-40.
"Less female sports clubs have resources to support sports scholarships," said a spokesperson for the college. "Men's rugby, GAA football, hurling and soccer offer more than the female equivalent. Men's rowing annually set aside €3,000-€5,000 for scholarships and woman's rowing do not have the resources to do this."
Meanwhile, in DCU, 71 male students and 64 female students were awarded sports scholarships last year.
Aoife Lane, chairperson of the WGPA praised DCU, UL and WIT for offering new scholarship opportunities for elite camogie players and ladies' footballers. However, she said funding remains a challenge. "All student members of the Gaelic Players Association (GPA) receive a scholarship whereas the WGPA only had resources to award 16 scholarships in 2015," she said. "It is an imbalance we hope to work on while also supporting and encouraging our members to apply for scholarships within their own institutes."
Meanwhile, Student Sport Ireland, the governing body of third level sport here, said the number of sports scholarships awarded seem to reflect the gap in participation levels of females compared to males. The SSI, which has no role in awarding sports scholarships in third level colleges and universities, says the findings are a direct result of the significant dropout rates among girls during their teenage years.
"This gap is felt more keenly in team sports where there are more limited opportunities for females to participate in at a high performance level. However, recent developments in GAA, soccer and rugby will help in closing this gap," said a spokesperson.
The SSI claims that the number of female applicants is also believed to be considerably lower compared to that of male applicants, saying: "The key to increasing female participation in sport is clearly reducing the number of girls that drop out of their sport during their teenage years."
New 10 year jobs plan for those with a disability launched by Minister
Justice Minister Frances Fitzgerald with Annemarie Healy, from Glenamoy, Co Mayo, at the launch at Farmleigh House yesterday.
The Government has launched a new 'six-point plan' to create more jobs for those with disabilities. One of the key aims of the 10-year plan is to double the number of people in this group working in the public service within a three-year period.
The "comprehensive employment strategy" was launched in Farmleigh House yesterday by Taoiseach Enda Kenny.
Special public service competitions for people with disabilities will be arranged, and alternative recruitment channels will be opened up for people with disabilities.
People with disabilities are only half as likely to be in employment as others of working age.
The Taoiseach said this strategy would ensure this section of the population would not be left behind as the economy recovers.
Barnardos chief executive Fergus Finlay will chair a group to oversee the implementation of the strategy. Up to 600,000 people in Ireland are affected by some level of disability.
90% of doctors rely on online search engines to aid clinical decisions
A Asian Survey shows
Call it digital penetration or lack of clinical sources for information but as many as 90% of doctors rely on online search engines to aid their clinical decisions with Google being the most popular and frequently used non-evidence based search engine, showed a latest survey conducted in the Asia Pacific region. 
Highlighting the existing gap between what physicians are really looking for and the information sources they use to achieve that, the findings showed top reasons for the search of clinical information on web was to "stay abreast of latest developments in their field" followed by "reference during treatment and surgery." Doctors perform an average of six professional searches a day during their course of work, it said.
Pointing towards an increasing trend of internet usage, the findings show 58% of physicians prefer to access information on their computers while 14% still refer to printed sources of information. One in three physicians said they use a mobile device at the point of care, especially during a patient consultation or treatment.
Though availability of information on web has made information sharing easier, experts say there is an urgent need to validate the same as much of this data is not evidence based.
"It would be valuable for healthcare providers to evaluate the effectiveness of their current clinical information services and tools, and see where they can direct their spending on information and technology to help fill the gap that doctors face when searching for clinical information," said Pete Read, chief executive of Global Growth Markets – a UK-based healthcare data analytics firm.
The survey, conducted by Elsevier, a leading international information solution provider in the health and technology sector, showed physicians also use online search to plan treatment therapy, diagnostic tests, ensure best care is delivered at the lowest cost, establish clinical standards of patient care, and to prepare for a patient interaction. The clinical specialties most reliant on search include cardiology, internal medicine, general surgery, neurology and oncology.
The most frequently used keywords for search were "most trusted" and "most updated content", the data showed.
"As physicians, we are increasingly aware that to consistently provide our patients with the best care, we must not only know where to look for the information we need to solve complex medical questions, but more importantly, we must find information sources that we can trust as evidence-based, current, and reliable," said Dr Peter Edelstein, chief medical officer, Elsevier Clinical Solutions.
Highlighting the challenges faced in their quest for clinical information, doctors said there is a need for continued medical education and for hospitals and other healthcare facilities to subscribe to clinical information services that help doctors stay updated with the latest reliable clinical information.
"Almost anyone can publish anything today on the internet. Thus we as doctors and healthcare professionals need to be careful and use only clinical search engines that quickly and easily deliver trusted and updated content to support our critical patient care-based clinical decisions," said Dr Edelstein.
The survey found eight in ten physicians indicated that having "instant access" to the latest reference content is "very" or "extremely important" in influencing their clinical decisions.
Some of those surveyed also said that there is "too much published information available," and that they "need more training on how to search for clinically-relevant information."
Could electromagnets solve train delays problem caused by
'leaves on the line'?
It's that time of the year when leaves take over over pavements, parks and railway tracks.
But now an engineering company has claimed rail delays caused by the dreaded problem of "leaves on the line" could be reduced by a system of electromagnets.
Thousands of tonnes of leaves fall onto railway lines across the country each autumn, forming a slippery layer when compressed by passing trains – causing delays as drivers have to brake early to ensure they stop in time, and accelerate more gently to avoid wheel spin.
Train delays are more frequent in the autumn.
But Cambridgeshire-based firm Mole Solutions believes it may have devised a process which could solve the problem.
The proposal involves installing electromagnets and speed sensors onto train tracks. When a train is found to be travelling too fast, the system slows it down by creating an opposing force between the magnets and a metal plate underneath the train.
Bob Silverthorne, development director at Mole Solutions, explained: "When a train is coming into a station you want to see it slowing down at a certain rate.
"You measure its speed and compare that to the rate it should be slowing down. The difference is programmed into the electromagnets to add the extra braking that's required."
Silverthorne said the project – which is three months into a feasibility study – would improve timetables and capacity by allowing operators to run services closer together.
"This would bring a great benefit," he added.
"We have to stack up the cost of a system like this against the cost of delays on the network."
Silverthorne claimed the technology could be introduced on the railways within four years.
Each autumn, Network Rail deploys up to 55 special trains and 80 teams who work around the clock to keep tracks clear of leaves. The use of electromagnets is one of a number of projects which received development funding from the Rail Safety and Standards Board.
Outcry over gene editing to create pet micro-pigs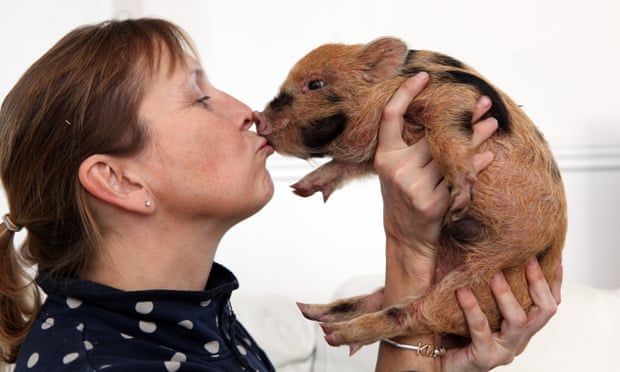 Genetic editing techniques used to create tiny pigs that are to be sold as pets have triggered a furore, with animal rights groups alleging that the creation of micro-pigs could be harmful to the animals.
The technique pioneered by scientists at the Beijing Genomics Institute was outlined in the science journal Nature last week. The micro-pigs were developed through a gene editing technique known as transcription activator-like effector nucleases, or Talens, which was applied to a small breed of pig known as Bama.
The animals were initially experimented on to help with stem cell experiments and other research, reported The Observer.
The result was tiny pigs that weigh about 15kg when mature, about the same as a medium-sized dog. The institute now plans to sell each micro-pig for about £1,000 (S$2,175) to raise cash for the institute. "We plan to take orders now and see what the scale of the demand is," said institute senior director Yong Li.
But animal rights groups and some scientists are horrified by the idea.
"The idea is completely unacceptable," Dr Penny Hawkins, head of the Royal Society for the Prevention of Cruelty to Animals' research animals department, told The Observer. "In the past, pets have been bred by selecting animals, generation by generation, to produce a desired trait. Inducing a massive change in one go risks creating animals that suffer all sorts of horrific impairments."
Even pet breeds created through standard methods of selection suffered grim afflictions, Dr Hawkins said.
"Pug dogs have been bred to have flat faces, but this makes it difficult for them to breath. They suffer from air hunger and many collapse. Similarly, Cavalier King Charles spaniels have been bred to have such small heads that their skulls are too small for their brains and they suffer considerable pain."
Geneticist Jens Boch at the Martin Luther University in Germany also sounded a note of caution.
"It's questionable whether we should impact the life, health and well-being of other animal species on this planet light-heartedly," he told Nature. But other scientists said gene modification may be a better method for creating tailor-made animals than natural methods.
"If the micro-pig is carefully evaluated and found to be equal in health compared to a normal pig and differs only in terms of size, there would be little scientific reason to block it from being offered as a pet," said reproductive biologist Willard Eyestone of Virginia State University.
But Dr Max Rothschild of Iowa State University said the use of gene modification to sell pets was a trivial use of the technology.