Sunday 27th September 2015
Anti Austerity Alliance conference focuses on recovery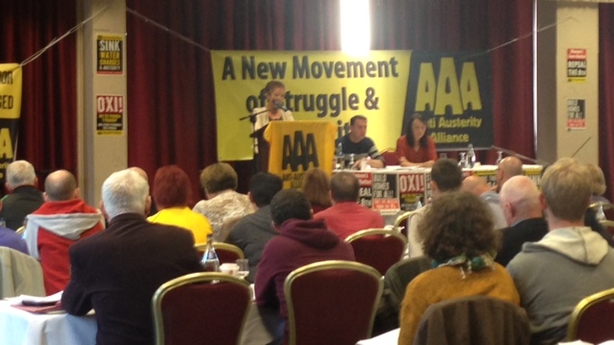 Paul Murphy told RTÉ News that the main theme of the conference will be the question of a recovery in Ireland's economy.




About 200 people are attending the Anti-Austerity Alliance's first national conference this afternoon, at the Red Cow Hotel in Dublin.
The party says the conference is discussing the ongoing struggles within the group and the building of a new movement to transform Irish society and give political representation to working class people.
Speakers include TDs Paul Murphy, Ruth Coppinger and Joe Higgins, a homeless woman who was involved in the occupation of NAMA properties in Dublin earlier this week, and a former deputy mayor of Liverpool City Council, who will look at the rise of Jeremy Corbyn in Britain.
Mr Murphy told RTÉ News that the main theme of the conference will be the question of a recovery in Ireland's economy.
He said: "The reality [is] that the Government has created a crisis tsunami of homelessness, it has created an economy based on low pay and it has created a situation where almost half of children in the country are suffering from multiple deprivation experiences."
Ireland must end austerity outright and tax corporations and high earners to provide a "real recovery", the Dublin TD said.
Mr Murphy continued that Ireland needs "a complete radical change of policy, a political revolution and the building of a mass left movement that can fight for a left government in this country".
Jeremy Corbyn proposes London memorial for Countess Markievicz 
   

Election of Countess to House of Commons an 'important footnote', Labour leader says
Countess Constance Markievicz as a captain in the Irish Citizen Army.
British Labour leader Jeremy Corbyn has proposed a memorial to Countess Markievicz to be erected in his London constituency of Islington North.
Mr Corbyn told the Labour Party conference on women that Countess Markievicz created history by becoming the first woman to be elected to the House of Commons.
Markievicz was elected to the Irish Government in Dublin St Patrick constituency in the election of 1918, but like all other Sinn Féin MPs, refused to take her seat.
Jeremy Corbyn: long time supporter of a united Ireland. Photograph: GettyJeremy Corbyn reiterates support for united Ireland
Ruairí Quinn said he saw himself as an "unreconstructed socialist".
What difference has the Labour party made?
Trading places: British prime minister David Cameron (left), and Labour Party leader Jeremy Corbyn (right) during a service to mark the 75th anniversary of the Battle of Britain.
Corbyn is right, God Save the Queen is awful
Jeremy Corbyn, the new leader of Britain's Labour Party takes part in his first Prime Minister's Questions in the House of Commons in Westminster,
She spent most of her early years in London though the family-owned Lissadell House in Co Sligo.
She was second-in-command of the Irish Citizen Army during Easter Week 1916 and was sentenced to death. The sentence was commuted to life in prison because she was a woman, but later released.
She was arrested again in 1917 and was detained in Holloway Prison for nearly two years.
Holloway Prison is in Mr Corbyn's constituency. While she was in prison, she was elected to the House of Commons.
In 1919, she became the first female Irish cabinet minister, a record that was to stand for nearly 60 years when Maura Geoghegan Quinn became a cabinet minister in 1979.
Mr Corbyn has been a long time admirer of Countess Markievicz and told the women's Labour conference that her election to the House of Commons was an "important footnote in history".
He added: "I have been discussing this with women colleagues on Islington Council and when we rebuild our library next to the prison we are going to have a plaque, a memorial, up so that all the generations can understand the contribution that Connie Markiewicz and so many others made."
Speculation Pope Francis may visit Ireland in 2018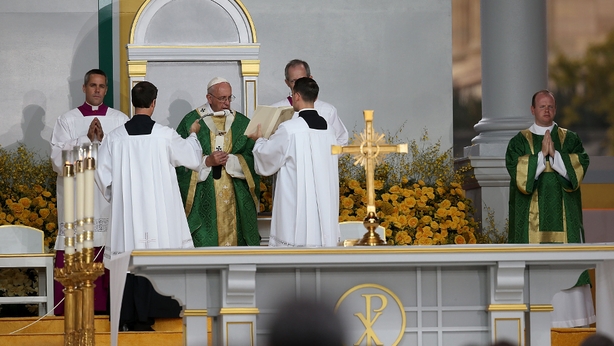 There is speculation that Pope Francis may visit Ireland in 2018 after Pope Francis announced at mass in Philadelphia that the Catholic World Meeting of Families will take place in Dublin.
The Catholic World Meeting of Families is staged every three years in a different location around the world.
The World Meeting which was set up in 1994 by Pope John Paul II is generally attended by the pope of the day.
The announcement that the meeting will take place here was made during the concluding mass of Pope Francis's ten day pastoral visit to Cuba and the United States.
If Pope Francis does visit, it will be the first papal visit to Ireland since Saint John Paul II came here in 1979.
It will not be Pope Francis's first visit however as he spent three months in Dublin in 1980 when, aged 43, he came to study and stay at the Jesuit run Milltown Institute in Ranelagh.
Earlier, Pope Francis held a giant open-air mass, the final religious service of his triumphal tour of the United States, attended by an enormous crowd in downtown Philadelphia.
Up to 1.5 million people from across the world and around America were expected to attend the religious service on the Benjamin Franklin Parkway before the pope boards a flight back to Rome.
The mass, held outside the Philadelphia Museum of Art is open to the general public and brings to a close the World Meeting of Families, a Catholic event that happens once every three years.
The Benjamin Franklin Parkway stretches around 1.6 kms long and television footage showed the crowd spread across much of it, but there was no immediate confirmation of how many people attended.
Draconian security measures have been in place the entire weekend in Philadelphia, with traffic banned from the downtown area and members of the public forced to travel by foot.
Earlier, Pope Francis met victims of church sex abuse, saying "God weeps" for their suffering and promising to hold all those responsible to account.
The pope met three women and two men, with their relatives for 30 minutes at the San Carlo Borromeo seminary on the final day of his visit to the United States.
"God weeps," the pope told a gathering of bishops afterwards. "The sexual abuse of children cannot be maintained secret.
"I commit to a careful oversight to insure that youth are protected and all responsible will be held accountable."
"Those who have survived the abuse have become true heralds of mercy, probably we owe each of them our gratitude for their great value as they have had to suffer terrible abuse," he added.
Philadelphia is one of the cities where the scandal was most serious in the 1980s.
One rare criticism of the pope during his six-day trip to Washington, New York and Philadelphia was that he did not have such a meeting on his public agenda.
Without the audience, victims of the sex abuse scandal would have been extremely disappointed.
The pope's predecessor, Benedict XVI, met victims of the sex abuse scandal in Boston in 2008.
Calls and emails: 10 things to know how to avoid the scam artists
   

Gardaí warn 'vishing' scams are on the rise with reports of victims losing thousands.
Gardaí have received reports of vishing scams where the targets have lost more than €38,000.
Gardaí are warning people about the rise of telephone and email scams where criminals attempt to deceive people into providing personal financial information.
They said they have received a significant increase in reports of "vishing" from all over the country since the activity was highlighted in July.
The force has received reports of vishing where the targets have lost more than €38,000. In a case reported in the last two weeks an injured party transferred more than €22,000 on the instructions of a person purporting to be a named Garda superintendent.
Gardaí warn about phone 'vishing' scam
Austrian students Marie Sramek and Tanja Rosenecker were scammed out of a €550 deposit for accommodation. Photograph: Dara Mac Dónaill Students seeking to rent in Dublin scammed out of deposit
Illustration: Frazer Hudson/Ikon via Getty Images10 online scams to watch out for.
Here are 10 way to avoid "vishing" scams:
1. If something seems too good to be true, then it is too good to be true. Unless you know and trust any person who is dangling any class of financial reward or once in a life time deal or threat in front of your eyes, your starting position should always be "This is a scam".
2. Never allow yourself to be hurried into making a decision. One of the most important tools in the scam artists' armoury is panic and fear. Many of the deals and threats that are out there come with a warning that unless you act immediately you will lose out. So never act immediately and always consult with someone else before making any kind of financial commitment. Sometimes giving voice to an offer that has been made, makes it easier to see how ridiculous it is.
3. Remember that your bank will never, ever contact you by email looking for any financial details. They will never email you an alert warning you to update the financial details on their website. If you ever get an email from your bank – no matter how legit it looks – treat it with the gravest suspicion.
4. Change your passwords often. It is a pain but it keeps you focussed and keeps you one step ahead of the scammers. And do not put the answers to security questions on Facebook. That means leaving out details of where you went to school, your mother's maiden name, your first pet's name and all the other questions that may you may uses as answers when getting access to your key accounts.
5. Unsolicited calls offering you any class of unexpected financial reward are almost certainly bogus. Remember what we said about things being too good to be true? Never forget that fact.
6. If you get a call from Microsoft offering to fix a deadly virus they have found on your computer for what seems like a small sum of money just hang up. Can you think of any circumstance in which a company will call you up unsolicited and offer to help you out?
7. The tax man is never going to send you a mail or a text telling you that an unexpected tax rebate is coming your way. That is as likely to happen as you winning the Spanish lottery or inheriting a suitcase full of blood diamonds from Sierra Leone.
8. Scam artists target vulnerable people. Frequently these people are elderly or live alone. They can be unfamiliar with the workings of the internet. Do what you can to spread the word about scams and alert vulnerable people close to you of the dangers. This can be done in a casual way – there's no point in scaring everyone witless.
9. Pay attention to what his happening around you. Scam artists are constantly working out new ways to part people from their cash. The nastiest – and most believable one doing the rounds right now sees the criminal phone a member of the public – on their land line – claiming to be a "security manager" from a well known store. They tell the target there's been a security breach and credit or debit card details have been compromised.
They will ask for bank details and if the request is refused, the target is advised to call their bank immediately. The target hands up but the fraudster stays on the line which remains active. The target picks up the phone and calls their bank – without waiting for a dial tone. A voice comes on the other end saying that that to protect the account the funds must be transferred to another account. Once a person "voluntarily" transfer funds or information to a third party, there is no comeback. So pay attention to the news and when you hear of a new scam spread the word.
10. Listen to the words of the gardaí. "These criminals are targeting vulnerable, usually elderly people and I want to warn people to never give anyone details of their bank accounts or credit card numbers. Please remember that no genuine person or organisation will call and ask for your details. Gardaí are asking community organisations, relatives or neighbours of elderly people to help us to get this message across," said Detective superintendent Gerard Walsh from the Garda Bureau of Fraud Investigation alerting people to the scam highlighted in number 9. If you think you have been targeted by scam artists call the guards. And remember what we said about something being too good to be true.
This 'Supermoon' set to coincide with lunar eclipse
A statue is seen silhouetted against the moon in Brussels, Belgium September 26, 2015. On Saturday, a perigee moon coincided with a full moon creating a "supermoon" when it passed by the earth at its closest point.
Astronomers are gearing up to spot a rare phenomenon, as a lunar eclipse coincides with a so-called "supermoon".
A supermoon occurs when the Moon is in the closest part of its orbit to Earth, meaning it appears larger in the sky.
The eclipse – expected to make the Moon appear red in colour – will be visible in North America, South America, West Africa and western Europe.
Nasa claims a supermoon last coincided with a lunar eclipse in 1982 and is not expected to again until 2033.
But the definition of a supermoon is debated among astronomers.
Skywatchers in the western half of North America, the rest of Europe and Africa, the Middle East and South Asia will see a partial eclipse.
From the UK, observers will see the Moon pass through the Earth's shadow in the early hours of Monday morning. In North and South America the eclipse will be seen on Sunday evening.
Eclipse facts:-
The supermoon, where Earth's satellite is near its minimum distance from our planet, means that the Moon will appear 7-8% larger in the sky.

The moon may look rust-coloured during a total lunar eclipse – giving rise to its nickname Blood Moon.

This is because the Earth's atmosphere scatters blue light more strongly than red light, and it is this red light that reaches the lunar surface.

During the eclipse, the Moon lies in front of the stars of the constellation Pisces.

In a total lunar eclipse, the Earth, Sun and Moon are almost exactly in line and the Moon is on the opposite side of the Earth from the Sun.

As the full Moon moves into our planet's shadow, it dims dramatically but usually remains visible, lit by sunlight that passes through the Earth's atmosphere.

As this light travels through our planet's gaseous envelope, the green to violet portions get filtered out more than the red portion, with the result that light reaching the lunar surface is predominantly red in colour.

Observers on Earth may see a Moon that is brick-coloured, rusty, blood red or sometimes dark grey, depending on terrestrial conditions.

Dr Robert Massey, deputy executive director of the UK's Royal Astronomical Society, told BBC News that the eclipse is an "incredibly beautiful event".

A supermoon occurs when a full or new moon coincides with a Moon that is nearing its minimum distance (perigee) to Earth.

The Moon takes an elliptical orbit around Earth, which means that its average distance changes from as far as 405,000km (its apogee) to as close as 363,000km at the perigee.

The coincidence between a supermoon and an eclipse means that Earth's lone companion is expected to look 7-8% bigger. But Dr Massey added: "The definition of 'supermoon' is slightly problematic.

He said a supermoon was to some extent a moveable feast compared with an eclipse, where the timing can be measured precisely.




As a result, Dr Massey explained, claims of the extreme rarity of a supermoon coinciding with an eclipse were overstated.

The supermoon should also not be confused with the Moon Illusion, which causes the Moon to appear larger near the horizon than it does higher up in the sky.
The eclipse will begin at 00:11 GMT, when the Moon enters the lightest part of the Earth's shadow, known as the penumbra, and adopts a yellowish colour. At 02:11 GMT the Moon completely enters the umbra – the inner dark corpus of our planet's shadow.
The point of greatest eclipse occurs at 02:47 GMT, when the Moon is closest to the centre of the umbra. The show will be over by 05:22 GMT on Monday.
The Royal Astronomical Society says that unlike the solar equivalent, a total lunar eclipse event is safe to watch and needs no special equipment.
Deep-diving whales could help trauma patients. Here's how
Oxygen-binding proteins found in the muscle tissue of deep-diving whales could hold the lifesaving answer for human trauma patients, according to a new study

.

While the protein myoglobin is found in humans, whales and other mammals, the study found that marine creatures have ultra-stable versions of the protein.

The study published in the Journal of Biological Chemistry by Rice University biochemists, found that stability was the key for cells to make large quantities of myoglobin, which explains why whales hold far more of the protein in their muscle cells than humans. This in turn, allows whales to hold their breath for up to two hours.

"Whales and other deep-diving marine mammals can pack 10 to 20 times more myoglobin into their cells than humans can," biochemist John Olson said in a Rice University press release. "The reason why whale meat is so dark is that it's filled with myoglobin that is capable of holding oxygen. But when the myoglobin is newly made, it does not yet contain heme. We found that the stability of heme-free myoglobin is the key factor that allows cells to produce high amounts of myoglobin."

Olson has spent about 20 years studying the protein, and wants to create a strain of bacteria that can create massive amounts of another protein that is similar to myglobin. The goal is to develop a synthetic blood for use in transfusions.

Donated whole blood is often in short supply and has a short shelf life and Olson's aim is to maximize the amount of hemoglobin that a bacterium can express, the release reads. A vitro method was developed by researches to test myoglobin expression outside of living cells.

"That allowed us to carefully control all the variables," said Olson. "We found that the amount of fully active myoglobin expressed was directly and strongly dependent on the stability of the protein before it bound the heme group."

Image shows the shape of myoglobin (red) which includes a waterproof pocket that is used to store heme (green), a molecule that allows myoglobins and hemoglobins to transport oxygen. Courtesy: Rice University
Researchers studied the protein's stability and resistance to unfolding by analyzing the overall structures and shape of myoglobin from different species.

Stability in myoglobin was studied in humans, pigs, goosebeak whales, gray seals and sperm whales to name a few of the species.

Stability was measured by using chemicals that forced proteins to unfold. A graduate student in Olson's lab observed how myoglobin in sperm whales was much more resistant to chemically induced unfolding, unlike human or pig proteins. It was confirmed in 2000 that resistance to unfolding was a trait of deep-diving whales.