Monday 21st September 2015.
Government considers a budget move to boost Irish housing supply
Cabinet sub-committee examines bigger role for Nama on construction of homes in Dublin.
The construction industry has been lobbying in recent times for a major reduction in development costs for housing, including development levies.
The Government is considering a range of measures in next month's budget aimed at boosting much-needed housing supply.
A meeting of the Cabinet sub-committee on social affairs on Monday heard that while there is planning permission for up to 21,000 homes in the Dublin area, there has been little activity on the ground.
One option discussed at the meeting involves giving theNational Asset Management Agency greater scope to facilitate construction of new houses and apartments.
Nama is already planning to assist with the construction of up to 4,500 homes in the Dublin Docklands area and other urban centres.
However, it has identified potential for land and property to yield up to five times that number of homes, according to informed sources.
Other supply-boosting matters discussed at the meeting included lowering local authority levies for developers who plan to build homes in areas of high demand.
The construction industry has been lobbying in recent times for a major reduction in development costs for housing, including development levies.
Any such move would likely involve the Government compensating local authorities for lost revenue.
The committee meeting was chaired by Taoiseach Enda Kenny and included Minister for Finance Michael Noonan, Minister for the Environment Alan Kelly and Minister of State for housing Paudie Coffey.
Another option discussed involved using the Ireland Strategic Investment Fund to enter the private residential property market by providing large loans to housing developers.
Zoned lands
Use of the fund – previously known as the National Pensions Reserve Fund –  is seen as a recognition of difficulties facing some developers in accessing finance to residential developments, according to sources.
Greater investment in infrastrucutre to make priority zoned lands usable for housing was also discussed.
A recent report estimated that land zoned in the Dublin area could provide up to 50,000 homes.
However, it found that about €165 million was needed for infrastructure such as water pipes, power lines and roads to allow the lands to be used.
The Dublin Housing Supply Task Force, set up under the Government's Construction 2020 strategy, found that each of the capital's four local authorities had identified the zoned land banks which could most quickly be brought into use if funding were available.
The meeting also involved ongoing discussion of ways to limited rent increases by linking rents to the consumer price index and other factors.
This "rent certainty" model is used in many European countries, and typically limits increases within a certain percentage limit of inflation.
Microsoft and Google the top Irish exporters
Kerry Group ranks number one in food and drink sector with exports of €5.2 billion
Mircosoft's offices in Sandyford, Co Dublin. The technology giant has replaced Google as the top exporter in Ireland.
Microsoft has replaced Google as the top exporter in Ireland, after growing its export turnover by 21 per cent from €15 billion in 2014 to €18.2 billion this year.
The technology giant was named the country's largest exporting company in the 2015 edition of Top 250 Exporters in Ireland and Northern Ireland, compiled by the Irish Exporters Association in association with Investec.
Microsoft was followed by Google Ireland with export turnover of €17 billion, while Medtronic Ireland was in third place with export turnover of €16.7 billion. Johnson & Johnson Ireland came in fourth place with export turnover of €10.5 billion and Ingersoll Rand was fifth, with export turnover of €9.8 billion.
Data from the report shows strong growth in the manufacturing and services sectors with the value of exports from the top five exporters increasing by 23.5 per cent on the previous year.
James O'Connor, managing director of Microsoft EMEA Operations, said the recognition by the Irish Exporters Association is welcomed during "this important year of celebration for the company in Ireland".
"Microsoft is celebrating 30 years of investment in Ireland this year. Over the past three decades we have continued to invest in, and grow our operations and now have over 1,200 people working in a range of areas including R&D, engineering, finance, legal services, sales and marketing," he added.
Tech firms featured heavily on the list, accounting for nine of the top 20 exporters, with seven of the top 20 in the medical and pharma sectors.
In the food and drink sector, Kerry Group topped the table with exports of €5.2 billion, followed by Total Produce with €3 billion in exports.
Investec equity analyst Ian Hunter said food and drink-related exports now total €10.5 billion with strong growth in the dairy and beef categories having driven a 10 per cent yearly increase over the past five years.
"Meat and livestock exports continue to account for roughly a third of all exports, while dairy products and ingredients, including infant formula, make up a further 30 % he said.
Breath test results must be in both English and Irish,
Say's a judge
Man accused of drink driving claims statement not valid because it was in English only
Mihai Avadenei's legal team had argued that a statement produced following the Evidenzer breath alcohol test was not valid because it was in English only.
A breath alcohol test statement is not a valid piece of evidence if it is in English only, a High Court judge has ruled.
Mr Justice Seamus Noonan said on Monday that a statement produced after a test had been performed by gardaí¬, who had arrested Mihai Avadenei (29) for a drink driving offence, had not been printed in Irish.
The judge said that under the Road Traffic Act 2010, Mr Avadenei, with an address at Lioscianan, Swords, Co Dublin, could face up to six months in jail and/or a €5,000 fine for the offence.
Mr Justice Noonan said that in April last year, a first breath test had been performed on Mr Avadenei after he had been stopped by Garda Francis McMahon for driving at 80km/h in a 50km/h zone.
The judge said in a written judgment that Garda McMahon had felt a strong smell of alcohol from Mr Avadenei's breath and had performed an Alcotest which result had been "fail."
Garda McMahon had arrested Mr Avadenei and had brought him to Store Street Garda station, where a further test, Evidenzer Irl, performed by another garda, revealed a concentration of 54 micrograms of alcohol per 100 millilitres of breath.
In July last year, during District Court proceedings brought by the DPP, Mr Avadenei's legal team had argued that the statement produced following the Evidenzer test was not valid because it was in English only.
The DPP had stated it was not required to print the form in two languages, but only that it be reproduced in Irish. District Court Judge Colin Gibbons had ruled that the document had not been "duly completed," and had asked the High Court for a confirmation of his finding.
Affirming Judge Gibbons' decision, Mr Justice Noonan said there was no ambiguity in the Act that when performing the Evidenzer test, the garda must supply statements in Irish and in English.
"Once the breath specimen has been given which indicates a possible contravention, the person providing the specimen shall be supplied immediately by a member of the Garda Síochánawith two identical statements in the prescribed form," the judge said.
"In my view, what arises in this case, being a failure to reproduce an entire half of the prescribed form, could not be regarded as 'mere deviation' from the form prescribed.
"It is not evidence at all and cannot be admitted," Mr Justice Noonan said.
Macular Society  Charity group call to 'eat your greens' for eye's sake
Eye care charity the Macular Society has issued a call to encourage people to look after their sight by eating their greens.
Keen to highlight the relationship between diet and eye health, the initiative aims to support National Eye Health Week (NEHW), which takes place this week (September 21–27).
Many green vegetables contain lutein and zeaxanthin which are antioxidents that can help protect vision. Kale, for example, is a food source with very high levels of these nutrients.
Commenting on age-related macular degeneration (AMD) and eye health, chief executive of the Macular Society, Cathy Yelf, said: "By 2020 almost 700,000 Britons will have late-stage AMD. We are fighting for more funding for macular research because our ageing society means many more people are developing the condition. We urgently need to find a solution.
"The exact cause of AMD is unknown. However, the two most important risk factors are age and genetics. Smoking, poor diet and obesity also increase the risk of AMD."
Irish students win EU Young Scientist awards in Italy
Eimear Murphy and Ian O'Sullivan win with alcohol project in Dublin left and right winners in Italy of the EU prize.
Ian O'Sullivan and Eimear Murphy (both centre) from Coláiste Treasa, Cork, being declared winners of the 51st BT Young Scientist and Technology Exhibition in Dublin in January 2015.
Three Irish students have been awarded prizes at this year's EU Contest for Young Scientists in Italy.
Eimear Murphy and Ian O'Sullivan from Coláiste Treasa in Kanturk, Co Cork won the Intel ISEF prize for their project "Alcohol Consumption: Does the Apple Fall Far from the Tree?"
It examined the association between adolescent alcohol consumption and their parents' consumption pattern and attitudes towards alcohol.
They found a liberal attitude to alcohol and increased levels of consumption by parents are linked to hazardous adolescent drinking behaviour.
The pair won top prize at the BT Young Scientist and Technology Exhibition at the RDS in January of this year.
As part of their prize, the 17-year-olds will travel to Phoenix, Arizona, in the US, to take part in the Intel International Science and Engineering Fair next year.
A second Irish project also took an award. Mark O'Dowd, from Glanmire Community School in Cork, won the Expo Milan 2015 prize.
His project examined whether injuring crop seeds could increase crop yields. He found yields increased for crops such as barley when they were rolled and perforated at seed stage.
The 16-year-old won a laptop and a chance to take part in the closing ceremony of Expo 2015 in Milan in October.
A 15-year-old US student was among three who were awarded overall first prizes at the competition. Sanath Kumar Devalapurkar's project, entitled On the Stability and Algebraicity of Algebraic K-theory, offered a new perspective on K-theory. He is currently studying mathematics at University College Los Angeles.
The two other first prize winners were from Poland and Germany. Their projects were in the fields of physics and computing.
Scientists want to be part of the ethical debate on human genetics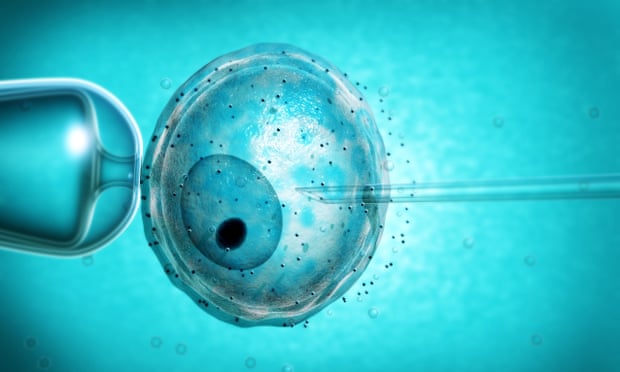 Human embryos on a petri dish are viewed through a microscope.
"It is up to society to decide what is acceptable: science will merely inform what may be possible." This statement made by Kathy Niakan, a stem cell researcher at the newly opened Francis Crick Institute in London, seems eminently reasonable, but it raises as many questions as it allays.
Niakan has applied to the Human Fertilisation and Embryology Authority for a licence to use a powerful new gene-editing technique on human embryos that would produce the first genetically modified embryos in the UK. Such a step is currently banned for federally funded research in the US.
If Niakan is permitted to proceed, the embryos – donated from IVF treatment and modified using a method called Crispr/Cas9, which makes it relatively straightforward to snip out genes and insert new ones – would legally have to be destroyed within 14 days. The work would explore the genetic roots of repeated miscarriage by examining the layer of cells in the embryo that develop into the placenta.
Niakan refutes suggestions that the work would set us on a slippery slope towards designer babies. She is absolutely right. Regulation is very clear and tight in the UK, even while being permissive by global standards. Indeed, it's a willingness to confront and think through the issues that has made the HFEA an admired and trusted model for regulating embryo research. There is little such oversight and clarity in China, where earlier this year a team first used Crispr/Cas9 to edit the DNA of (non-viable) human embryos. That work suggested there could be complications in efforts to correct faulty genes this way.
But if Niakan's research is humanely motivated and legally protected against abuses, then why would it be prohibited in the US? In a statement in April in response to the Chinese work, Francis Collins, director of the US National Institutes of Health, said: "NIH will not fund any use of gene-editing technologies in human embryos. The concept of altering the human germline in embryos for clinical purposes … has been viewed almost universally as a line that should not be crossed."
The germline here refers to the fact that any gene modification in an embryo would be inherited by future generations derived from it. One of the reasons cited for the US ban is that alterations made to the germline "affect the next generation without their consent". If that were to be done, the ethical issues are more complex than they might seem: is it ethical to refuse the chance to eliminate a serious genetic disease in a future individual "without their consent"? The moral philosophy of hypothetical people yet to be conceived (or not) is itself highly contentious.