Sunday 9th August 2015
Greece hopes to conclude bailout talks by Aug. 11
Greece hopes to conclude negotiations with international creditors by early Tuesday at the latest, a Greek official said as talks continued in Athens on a new multi-billion euro bailout.
Greece's finance and economy ministers were locked in negotiations with representatives of creditors on Sunday. Greek officials have previously said they expect the bailout accord to go to the country's parliament for approval by Aug. 18.
"Efforts are being made to conclude the negotiations, the horizon is by Monday night or early Tuesday," said a Greek official who declined to be named.
"When the new bailout comes to parliament for a vote it will be one bill with two articles – one article will be the loan agreement and the MoU (memorandum of understanding) and the second article will be the prior actions," the official said, referring to measures Greece needs to take for the bailout accord to take effect.
The negotiations began on July 20. A senior Greek finance official told Reuters the aim was for a meeting of euro zone finance ministers to review the accord on Friday, Aug. 14.
Athens is negotiating with European Union institutions and the International Monetary Fund for up to 86 billion euros ($94 billion) in fresh loans to stave off economic collapse and stay in the euro zone. The bailout must be in place by Aug. 20, when Greece has a repayment falling due to the European Central Bank.
Twenty Irish care centres facing closure
Some twenty care centres across the country face closure, affecting hundreds of people with intellectual disabilities.
The Sunday Business Post reports that health watchdog Hiqa has issued 20 HSE-run care homes with notices to cancel or refuse applications for registration unless they make drastic improvements or immediate changes.
According to the newspaper, only two of the residential homes said they were resolving the issues.
The Áras Attracta care home in Swinford, Co Mayo (pictured), which was at the centre of a Prime Time investigation, is one of the affected 20 centres.
Fianna Fáil's spokesperson on disability and mental health deputy Colm Keaveny said the closure notices could have been prevented, and claimed the situation was much worse than had been reported.
He said there had been a lack of investment over a number of years.
"The Government has secretly and silently warehoused people with intellectual disabilities (in a) most blatant abuse of equality," he said.
"It's an absolute scandal (and) the situation is much worse than has been reported. The Government has, if any thing, deprioritised disability."
Fleadh Cheoil na hÉireann 2015: 'biggest Irish trad music festival' launched in Sligo on Sunday
  
The Sligo event is a magnet for 'larger Irish family' and those with no Irish links, says President Higgins.
  The website of Fleadh Cheoil na hÉireann 2015, taking place in Sligo.
Sligo was full of people dragging wheelie suitcases and musical instruments through its streets on Sunday as Fleadh Cheoil na hÉireann , "the biggest traditional Irish music festival on the planet", was launched by PresidentMichael D Higgins.
Just a few hundred enthusiasts attended the first Fleadh Cheoil in Mullingar in 1951 when, according to President Higgins, "Ireland's traditional culture was at a low ebb".
  On Sunday, when he launched the eight-day 2015 Fleadh at the "Wild Atlantic Way gig rig" in the centre of Sligo, the President pointed out that over 350,000 people are expected to attend this year.
Senator Labhrás Ó Murchú was predicting closer to 400,000, and as someone who has attended "probably about 50" fleadhanna he is something of an expert.
Comhaltas praised
Praising the "heroic" work of Comhaltas Ceoltoirí Éireann in reviving Irish music, the President pointed out that the Fleadh was a magnet for the "larger Irish family" and also for people with no links to Ireland.
Mr Higgins welcomed visitors with " neither ancestral nor geographic links to Ireland but who, with a curiosity that we all welcome, have developed a kinship with the Irish through culture and our folk traditions".
A lot has changed since 1951. Fleadh hoodies and T-shirts are the attire of choice for many young musicians in Sligo. The official Fleadh cheoil website is encouraging them to "play music, make new friends and take music selfies (tweeted using #sligofleadh2015)".
The elite of the traditional music world will arrive in the coming days and will be warmly welcomed, judging from the number of signs outside pubs declaring "musicians welcome". "Sterling welcome" was another popular notice.
If people thought WB Yeats was going to even briefly step out of the limelight for the week of the Fleadh, they reckoned without the Drumcliffe-based Cos Cos dance group.
Under Bare BenBulben's Head
They presented a pageant entitled "Under Bare BenBulben's Head" billed as "an artistic interpretation of an imaginary meeting between two of Sligo's best known historical figures, WB Yeats and St Colmcille".
It was an apt pairing. Not only has the 6th century missionary close links with Drumcliffe, but the history books show that after being buried on the island of Iona off Scotland, his remains were disinterred many years later and moved to Downpatrick where he was laid alongside St Patrick and St Brigid.
With the serious business of Scoil Eige now getting into gear for thousands of young competitors, Irish Rail has laid on extra services between Sligo and Carrick-on-Shannon for those staying in outlying towns and villages .
The company is also mindful of those hoping to enjoy "a good evening out without the stresses of driving home afterwards".
Another popular transport initiative is the John LennonEducational Tour Bus, which Music Generation Sligo and the Fleadh Cheoil have organised .
Supported by Yoko Ono Lennon, the bus boasts a fully equipped music studio and on Wednesday a lucky group of young musicians will be aboard for a masterclass in how to record and produce original music and make a video.
For others there will be busking opportunities on every corner.
The "Wild Atlantic Way" is a big success for Irish tourism
Projects such as the Wild Atlantic Way have led to a significant boost to tourism here according to Tourism Ireland.
They also say that more people now consider Ireland good value for money.
Figures released this week show that over 400,000 more visitors came to Ireland in the first half of the year.
CEO of Tourism Ireland Niall Gibbons said projects including the Wild Atlantic Way and Ireland's Ancient East were proving to be a big draw for tourists.
"It really worked in the international marketplace," he said. "We have a very compelling story to tell (but) it's important we don't get complacent."
Anti-smoking breakthrough drug eats nicotine like Pac-man!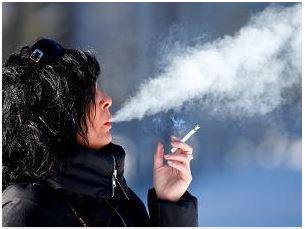 A new breakthrough research reveals a promising enzyme therapy that would help smokers quit for good.
A new study reveals a nicotine-eating bacteria that takes mental high and fun out of smoking.
The research was conducted at The Scripps Research Institute (TSRI) who were searching for an alternate, and effective, solution for people who wanted to quit smoking but needed help, according to NYC Today.
The nicotine-eating bacteria has an enzyme that would prevent the nicotine from ever reaching the brain, which in turn, who rob the smoker of any mental pleasure in the activity. The bacterial enzyme is called NicA2 is geared to make smoking less rewarding for smokers, in turn, internally encouraging them to quit.
The lead of the study, Kim Janda, is a chemistry professor and member of the Skaggs Institute for chemical biology at TSRI. Janda said that the experiment is promising, but still in the early stages. They hope that it will soon become one of the most successful therapies for smoking cessation.
The study to create this breakthrough therapy has been under the microscope for many years in the lab. The process has proven to work as they have been able to extract the enzyme from bacterium Pseudomonas putida.
The therapy is predicted to help about 80-90 percent of smokers who choose to use it. When used, the enzyme has effectively dropped the half-life of nicotine from hours down to minutes once added into the bloodstream. They also predict that at higher doses, the effect could be even more powerful.
Janda added, "The bacterium is like a little Pac-Man. It goes along and eats nicotine. Our research is in the early phase of drug development process, but the study tells us the enzyme has the right properties to eventually become a successful therapeutic."
The enzyme was originally discovered in the soil from a tobacco field. The bacterium naturally consumes nicotine as a main source of nitrogen and carbon. The testing continued there in the lab where researches happily found the enzyme to be stable, which Janda says was an amazing sign.
"The enzyme is also relatively stable in serum, which is important for a therapeutic candidate," said Song Xue, a TSRI graduate student.
NASA releases two Online tools for exploring Mars to the public
On the three-year anniversary of the Mars landing of NASA's Curiosity rover, NASA is unveiling two new online tools that open the mysterious terrain of the Red Planet to a new generation of explorers, inviting the public to help with its journey to Mars.
Mars Trek is a free, Web-based application that provides high-quality, detailed visualizations of the planet using real data from 50 years of NASA exploration and allowing astronomers, citizen scientists and students to study the Red Planet's features.
Experience Curiosity allows viewers to journey along with the one-ton rover on its Martian expeditions. The program simulates Mars in 3-D based on actual data from Curiosity and NASA's Mars Reconnaissance Orbiter (MRO), giving users first-hand experience in a day in the life of a Mars rover.
A NASA team already is using Mars Trek to aid in the selection of possible landing sites for the agency's Mars 2020 rover, and the application will be used as part of NASA's newly announced process to examine and select candidate sites for the first human exploration mission to Mars in the 2030s.
"This tool has opened my eyes as to how we should first approach roaming on another world, and now the public can join in on the fun," said Jim Green, director of NASA's Planetary Science Division in Washington. "Our robotic scientific explorers are paving the way, making great progress on the journey to Mars. Together, humans and robots will pioneer Mars and the solar system."
Mars Trek has interactive maps, which include the ability to overlay a range of data sets generated from instruments aboard spacecraft orbiting Mars, and analysis tools for measuring surface features. Standard keyboard gaming controls are used to maneuver the users across Mars' surface, and 3-D printer-exportable topography allows users to print physical models of surface features.
Mars Trek was developed by NASA's Lunar Mapping and Modeling Project, which provides mission planners, lunar scientists and the public with analysis and data visualization tools for our moon.
Experience Curiosity also uses real science data to create a realistic and game-ready rover model based entirely on real mechanisms and executed commands. Users can manipulate the rover's tools and view Mars through each of its cameras.
"We've done a lot of heavy 3-D processing to make Experience Curiosity work in a browser. Anybody with access to the Web can take a journey to Mars," said Kevin Hussey, manager of the Visualization Applications and Development group at NASA'sJet Propulsion Laboratory in Pasadena, California, which manages and operates the Curiosity rover.
Curiosity's adventures on the Red Planet began in the early morning hours of August 6th, 2012, Eastern time (evening of August 5th, Pacific time), when a landing technique called the sky-crane maneuver deposited the rover in the 96-mile-wide (154-kilometer-wide) Gale Crater. From there, the rover began investigating its new home, discovering it had landed near an ancient lakebed sprinkled with organic material. Billions of years ago, fresh water would have flowed into this lake, offering conditions favorable for microbial life.
"At three years old, Curiosity already has had a rich and fascinating life. This new program lets the public experience some of the rover's adventures first-hand," said Jim Erickson, the project manager for the mission at JPL.
NASA has been on Mars for five decades with robotic explorers, and August traditionally has been a busy month for exploration of the planet. Viking 2 was put into orbit around Mars 39 years ago on August 7th, 1976, making NASA's second successful landing on the Martian surface weeks later.
Mars Reconnaissance Orbiter was launched on August 12th, 2005, and still is in operation orbiting Mars. And Tuesday, August 4th, marked the eight-year anniversary of the launch of the Phoenix mission to the north polar region of the Red Planet.
NASA's orbiters and rovers have changed the way we look at Mars and enable continued scientific discoveries that one day will pave the way for astronauts to explore the Red Planet.