Thursday 23rd July 2015
HSE offers €1,500 to attract overseas nurses back to Ireland
 
Up to 500 nurses and midwives sought in new recruitment initiative.
The HSE says a relocation package is available for nurses and midwives who would like to come and work in the Irish health service
The HSE is to offer a tax-free €1,500 relocation expenses package to encourage nurses and midwives working abroad to take up posts in the Irish health service.
The HSE is seeking to attract up to 500 nurses and midwives working in the UK and further afield to work inIreland under the new initiative.
Ian Tegerdine, HSE national director of human resources, said a relocation package was available for nurses and midwives who wished to come and work in the Irish health service and who applied for posts through the new recruitment campaign. The HSE said the package on offer included: up to €1,500 tax-free removal/relocation expenses including the cost of flights subject to Revenue guidelines on allowable removal expenses; the cost of registering for the first time with the Nursing and Midwifery Board of Ireland; funded postgraduate education; incremental credit for experience gained outside Ireland.
The HSE said there were vacancies in a wide range of hospital and community facilities and it was seeking to attract up to 500 nurses and midwives from the UK and elsewhere to Ireland.
It said it was hoped that many Irish nurses and midwives working in the UK in particular would take up the opportunity to return home and work in the Irish public health services.
Mr Tegerdine said the campaign would focus on connecting with nurses and midwives in the UK and further afield via advertising on social media channels and newspapers.
The HSE said that those taking up employment would receive a salary scale of €27,211-€43,800 with additional pay for shift and differentials.
It said it was also offering nurses and midwives permanent contracts of employment, as well as opportunities for continuing professional development and sponsorship programmes for specialist post-registration education and Masters study.
Meanwhile back in the UK:
'Irish hospitals are so backward compared to here in the UK'
UK-based Irish nurse on new HSE recruitment drive
Lauren Irwin above pic middle a nurse from Rathfarnham, Dublin who has been working in the UK since 2012 says she will not be tempted back to Ireland.
An Irish nurse, working at a London Hospital since April 2012, has said the latest HSE recruitment programme will not tempt her to move back to Ireland for work.
Lauren Irwin (26) from Rathfarnham in Dublin said, "The staffing levels at the hospital I work at in London are so much better than at home.
"On the whole the hospital is managed in a much more efficient way."
The HSE are currently attempting to attract 500 Irish nurses to come home, offering them free flights and relocation expenses worth €1,500.
Lauren Irwin, a nurse from Rathfarnham, Dublin. She has been working in the UK since 2012.
Lauren told independent.ie that salary considerations are not her primary concern, adequate working conditions are the most important thing in her mind.
"I'm so supported here by the hospital management and by the National Health Service itself.
"You have to be content in the workplace. Pay comes second." she said.
Read More: Irish nurses to be wooed back home with €1,500 relocation offer
Lauren said that on the whole, patients receive better care at hospitals in the UK.
"There's nobody lying on a trolley for two or three days. That wouldn't be tolerated here. But it's still accepted in Ireland," she said.
She added that she had received an email from Tallaght Hospital in relation to recruitment.
Read More: Eilish O'Regan: After the exodus comes the charm campaign
"I got sent lots of information on the recruitment drive this morning.
"I can't see many people taking them up on it.
"One of my friends moved home to Ireland recently after working in the UK for a few years.
"He was in total shock at how bad things still are in Irish hospitals." she said.
The number of advertised jobs in Ireland rises by 17% over past year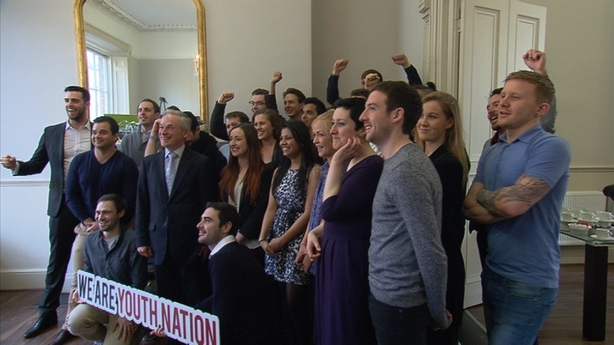 Sectors driving the increase include telecoms, retail, and tourism
The total number of jobs being advertised has increased by 17% over the past year, and by 7% in the past quarter.
Sectors driving the annual increase of 17% include telecoms (+41%); science, pharmaceuticals and food (+28%); financial services and insurance (+49%); construction, architecture and property (+18%); retail (+15%); and tourism (+14%).
Meanwhile, between April and June of this year there was an increase of jobs being advertised in healthcare (+32%), legal (+15%), and manufacturing (+17%).
IrishJobs.ie, which compiled the figures, has also published a Jobs Market Sentiment survey stating there is strong sentiment in the jobs market among jobseekers, with 50% (either employed, currently unemployed or in education and training) of the belief that the jobs market is improving.
In addition, more than half of jobseekers surveyed claim to be more secure in their job compared with 12 months ago. Almost two in 10 say they have already received a salary increase this year and three in 10 are expecting an increase.
The report looked at all corporate jobs advertised on two prominent jobs websites from the beginning of April to the end of June this year.
The flotation of AIB likely to take place in 2016,
Says Michael Noonan
 
The NTMA plans to focus on smoothing out €35bn in repayment 'chimneys' of national debt between 2018 and 2020
The Minister of Finance Michael Noonan at the press briefing for the National Treasury Management Agency (NTMA) annual report for 2015.
A stock market flotation of shares in the nationalised Allied Irish Banks is more likely to take place in mid-2016 than later this year, Minister for Finance Michael Noonan has said.
Although the Government had made preparations for an initial public offering this autumn, the Minister this morning suggested the flotation will not take place before the election.
"The only window for an IPO left this year is in November, and I have said that the IPO isn't going to be influenced in any way by the political calendar," Mr Noonan told reporters at the publication of the annual report of the National Treasury Management Agency.
"While there is a window there, the likelihood is that the IPO will go into the middle of 2016, late spring, summer of 2016, something like that."
At the publication of the NTMA annual report, the agency's chief Conor O'Kelly said it plans to smooth out €35 billion in repayment "chimneys" [of the national debt] \between 2018 and 2020.
"We'll focus strategically on trying to manage ahead … maybe getting some switching and buybacks going to try and smooth out what the requirement will be. That will be a significant focus."
Options include the issuing of inflation-linked or dollar denominated bonds.
Asked whether investors had raised questions about the election, Mr O'Kelly said the matter had been raised only at the "very margins" of discussions. "Maybe questions number 8, 9, 10 on peoples' list and probably only half the time that it gets mentioned."
In his experience, investors were generally not that interested in elections until you get closer to the actual event. "They don't spend an awful lot of time on polls, on speculation."
Asked what questions were being raised by investors, he said: "They're asking what is the likelihood of a change from a general centrist coalition type scenario. That's generally what they're asking – and I normally kick high into the stand."
Mr Noonan said his aim in the October budget was to bring the level of national debt to 100 per cent of GDP next year or below it. Ireland's debt, which peaked at 123 per cent of GDP after the crash, was cut to 110 per cent of economic output at the end of 2014.
"At the end of this year – and we're close enough to the end now to be able to predict with a degree of accuracy – it will be at 105. In the budget in October I'm going to be budgeting to bring it to 100 \[per cent] or to break through 100," Mr Noonan said.
"When you think that the average debt for the euro zone is a shade under 95 per cent of GDP , we're coming very very close to the European average on a time span I wouldn't have predicted even two years ago."
Echoing Mr O'Kelly, the Minister said events in Greece had not really affected Ireland.
"We're no longer rated with the Mediterranean countries which were involved in programmes. We're seen increasingly now as an economy more like the small northern countries in Europe."
Mr O'Kelly said the fact that Ireland's debt was unperturbed amid recent market volatility over Greece demonstrated that Ireland was seen as a "semi-core" debt issuer in the market.
"When you look at where we're ranked by the bond markets currently, we've been defined in a kind of a semi core category – not quite peripheral, not core," he said.
"In recent volatility and market moves around the the Greek story and around the European uncertainty, Ireland's position as a semi-core credit was really confirmed."
He characterised 2014 as the year the State made a smooth return to private debt markets, followed by moves to refinance expensive IMF debt with cheaper debt of longer maturities.
The NTMA has raised €11.3 billion so far this year, just over 90 per cent of its requirement.
"The statistic I like to use on this – it's not exactly accurate, but it's very very close – is that that funding has been done at double the maturity of last year and at half the yield. That really is showing how dramatic the improvement in our credit story is and of course the impact of QE," he said in reference to the European Central Bank's bond-buying campaign.
"We've issued at the yield of 1.5 per cent on average this year versus 2.8 per cent last year and our average maturity this year has been close to 19 years versus just over 10 years last year."
The NTMA raised €5 billion via two sales of a 30-year bond at the start of this year, the latter €1 billion of which was sold at the yield of 1. 3 per cent.
"That is extraordinarily low in terms of that kind of maturity. You can never say what's going to happen in financial markets but it will be quite some time before Ireland gets to issue a 30-year security at that kind of yield again."
Mr Noonan said he would not be instructing Nama to appear before the finance committee in Stormont to answer questions about the sale of its Northern portfolio. All his relationship with State agencies such as Nama were governed by law, he said.
"I have no legal authority to request or instruct Nama to appear before any forum outside the jurisdiction," he said.
"As well as that, Nama are obliged to be accountable to the Houses of the Oireachtas through the [Public Accounts Committee] and to make themselves accountable to any other forum would be in breach of that.
"Nama are quite willing to answer any questions that are considered relevant by the Northern Ireland finance committee."
Eating slowly has some benefits says new studies
 
Taking time to savour your food could help you lose weight, suggests a new study.
Those who make more time to enjoy their dinners might not just be more relaxed – they could benefit from finding it easier to keep weight off, too. That's because they tend to feel fuller afterwards, claims a new study.
For a while scientists have been aware that slow eaters tend to have lower BMIs, but the reason why was unknown.
Now researchers from the University of Bristol have decided to investigate whether eating slowly affects how hungry we feel afterwards.
To make sure quantities and rates at which people ate were exactly the same, 40 participants were fed tomato soup through a tube for this experiment. Exactly 400ml were pumped in; one group had theirs fed at a fast rate, a second at a slower pace (11.8 ml per two seconds, then a four-second pause for the fast group, 5.4 ml of soup per second, then a ten-second pause, for the slower group).
Participants were then quizzed on feelings of fullness, both straight after the meal and again two hours later.
Those in the slower category claimed to feel more satisfied both times around. Interestingly, the participants in this group also estimated they had eaten more than their counterparts (108 ml more on average).
To take their research further, scientists then asked participants to taste two kinds of biscuit after they'd had their soup. Both groups consumed roughly the same amount, so now they want to repeat the experiment without 'forcing' people to eat, but simply offering snacks after. They believe this will give more of an insight into whether eating slowly prevents snacking.
There are many benefits to eating slowly, so maybe you should take more time over dinner tonight. As well as having potential slimming effects, it makes digestion easier and leaves you less likely to feel bloated or suffering from heartburn.
Cigarette butts most common type of litter in Ireland,
A survey shows
 
'Smokers need to make every effort to dispose of cigarette butts,' says Minister for the Environment
The 2014 National Litter Pollution Report found that " cigarette-related litter" accounted for almost 55% of litter.
Cigarette butts and packets remain the most common type of litter found on Irish streets, according to the Department of the Environment's annual litter survey.
The 2014 National Litter Pollution Report found that " cigarette-related litter" accounted for almost 55% of litter, with butts constituting more than half of all litter items found on the street.
The survey, carried out by Tobin Consulting Engineers, found food-related items accounted for more than 16% of litter with chewing gum being the single largest litter component in the food litter category, accounting for 15% of all litter recorded.
Packaging litter at 12.4% is the third largest component of national litter pollution recorded.
The worst litter culprits are pedestrians (41%), motorists (18.7%), retail outlets (10.3%), places of leisure and entertainment (6.1%), gathering points (5.5%), school children (4.8%) and fast food outlets (4.7%).
The level of litter was improving however, with 12.3% of areas surveyed considered litter free, compared to 12.2% in 2013.
Minister for the Environment Alan Kelly said people needed to take individual responsibilty for litter.
"Smokers in particular, in light of the results announced today, need to make every effort to dispose of cigarette butts correctly at all times."
An older cousin of our Earth Kepler 452B is discovered
An "older cousin" of Earth has been discovered orbiting a distant sun-like star more than 1,000 light years away.
The world is 60% larger than Earth and lies in the star's "habitable zone" — the orbital region where temperatures are mild enough to be suitable for life.
No one knows if life has evolved on the planet, Kepler-452b. However, since the parent star is 1.5bn years older than the sun, any creatures living there could be far more advanced than they are on Earth.
That makes Kepler-452b a good candidate for scientists involved in the Search for Extra Terrestrial Intelligence (Seti).
On Tuesday, renowned physicist Stephen Hawking helped launch a new £64m (€90m) project to hunt for radio signals from alien civilisations.
Breakthrough Listen, funded by Russian internet billionaire Yuri Milner, will use two of the world's most powerful radio telescopes to scour thousands of stars for intelligent transmissions over 10 years.
News of Kepler-452b's discovery was released by astronomers operating the American space agency Nasa's Kepler space telescope.
Jon Kenkins, from Nasa's Ames Research Centre in California, said: "We can think of Kepler-452b as an older, bigger cousin to Earth, providing an opportunity to understand and reflect upon Earth's evolving environment.
"It's awe-inspiring to consider this planet has spent 6bn years in the habitable zone of its star; longer than Earth," said Dr Kenkins.