Friday 10th July 2015
Airline shares jump as Ryanair agrees to sell Aer Lingus 30% stake 
Shares in airlines have jumped after Ryanair voted to accept International Airlines Group's (IAG) offer for its 29.8% stake in Aer Lingus.
Ryanair and IAG shares were up almost 3%, while Aer Lingus was up 1.8%.
The formal acceptance paves the way for the €1.3bn (£940m) bid by BA and Iberia owner IAG for Aer Lingus to go ahead.
It is subject to backing by competition authorities. European Union approval is now the last remaining hurdle to the tie-up.
IAG's plans include building a new transatlantic hub at Dublin airport.
Ryanair's chief executive Michael O'Leary said in a statement: "We believe the IAG offer for Aer Lingus is a reasonable one in the current market and we plan to accept it, in the best interests of Ryanair shareholders.
"The price means that Ryanair will make a small profit on its investment in Aer Lingus over the past nine years."
Ryanair has attempted to buy Aer Lingus three times. Its takeover quest began in 2006, just after Aer Lingus was floated on the stock market by the Irish government.
Ryanair's initial bid illustrates the wild swings in Aer Lingus's value since then. Its first offer was €2.80 a share. The second, two years later, was half that and its most recent offer in 2012 was €1.30 a share.
The Irish government, which sold its 25% stake in Aer Lingus to IAG in May, recommended that Ryanair accept IAG's offer.
The deal values Aer Lingus shares at around €2.50 (£1.87) per share.
Aer Lingus is Heathrow Airport's fourth busiest operator, behind BA, Lufthansa and Virgin Atlantic.
If the deal is approved, IAG would gain more take-off and landing slots at Heathrow Airport, allowing it to operate more flights.
Ryanair said it had planned to use Aer Lingus to gain slots at mainstream airports.
Travellers have been surprised in the past by the distance of some of Ryanair's airports from the city they thought they were flying to.
Michael O'Leary said Ryanair did not need Aer Lingus now: "Our original strategy for Aer Lingus (to use it as a mid-priced brand to offer competition to flag carriers at primary airports) has been overtaken by the successful rollout – since Sept 2013 – of Ryanair's "Always Getting Better" strategy, which has seen the Ryanair brand successfully enter many of Europe's primary airports."
Irish Navy ship heading for 2nd Mediterranean rescue operation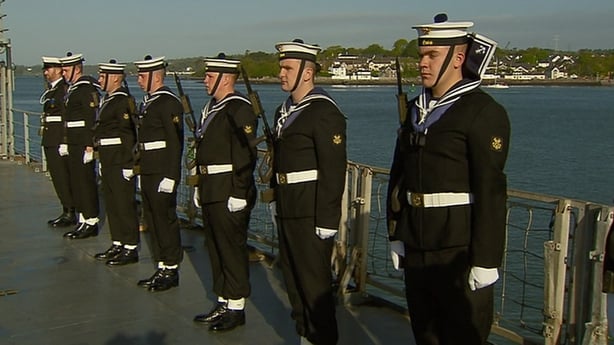 The Irish Naval vessel LE Niamh will join up with operations to rescue migrants
An Irish Navy ship has been tasked to the Mediterranean to renew efforts to rescue migrants.
The LE Niamh is replacing the LE Eithne which berthed in Malta during the week after saving 3,377 men, women and children from waters between Libya and Sicily over the last eight weeks.
The decision to send the Irish Navy was taken earlier this year in response to the huge numbers of migrants dying as they fled war, persecution and crippled economies and attempted to make it to Europe.
But documents have exposed the Irish Government's reluctance to join an international humanitarian missions over the previous two years as officials advised a "low profile" during discussions and warned increasing rescue missions could encourage life-threatening migration.
Simon Coveney, Defence Minister, met the crew of the LE Eithne as their mission ended.
"I conveyed to the personnel our deep appreciation for the outstanding manner in which they performed their duties on overseas service on behalf of the Government and the people of Ireland. I am pleased to be here today to convey my appreciation to you, in advance of your deployment," he said.
The LE Niamh under the command of Lieutenant Commander Daniel Wall is travelling from Haulbowline, Cork tonight and is expected to remain in the Mediterranean until September.
It has 55 sailors and two medics from the Army Medical Corps on board.
Mr Coveney added: "I want to wish Lieutenant Commander Daniel Wall and the crew of LE Niamh a safe and successful mission. You are travelling to the Mediterranean with my best wishes and with those of the rest of the nation."
Working parents in Ireland to get six months off after a new child
Working parents will get six months' paid leave in the first year after their child is born, under new plans being considered by the Coalition.
Squeezed middle-income working families with small children are set to benefit from a range of measures being recommended in a Government report on childcare, obtained by the Irish Independent.
The report also finds that just over one in four children under school-going age is in formal childcare and the existing free year of childcare is too short in terms of hours each day and number of weeks a year.
Six months' paid parental leave – to be shared between the parents and in addition to maternity leave – is the big-ticket item in the report compiled by a high-powered committee.
The measure would take a decade to implement in full but would build up gradually from a month to a full six months.
"The proposal is to increase parental choice to remain as the primary care-giver of their child in the first year of life and to provide as much support as possible to the developing relationship between the parents and the child," the childcare report says.
Meanwhile, Finance Minister Michael Noonan says he will cut the Universal Social Charge by 1pc in October's Budget.
"I'm going to cut the USC by at least 1% and maybe a bit more," he said.
Walking briskly can help us to prevent heart failure
  
Picking up the pace and cutting down on smoking and drinking can prevent heart failure, say health experts
Walking briskly at two miles per hour, exercising away 845 calories a week and limiting alcohol to two drinks a night can halve the risk of heart failure scientists have found.
Adults who walked briskly, were moderately active in their leisure time, drank moderately, did not smoke and avoided obesity were far less likely to develop heart problems.
Researchers in the US studied the lifestyles of 4,500 adults for two decades tracking their diet, walking habits, leisure activity, exercise, alcohol use, smoking status, weight, height, waist circumference and heart health through questionnaires and physical exams.
Researchers found that adults who walked at a pace 2 miles per hour or faster had a lower risk of developing heart failure.
Participating in leisure activities that burned more than 845 or more calories a week, not smoking, modest alcohol intake of one drink or more a week (but not more than 1-2 drinks/day), and avoiding obesity were also associated with reduced rates of heart failure.
Time to cut back? A modest intake of alcohol can also help prevent heart failure
Intriguingly diet did not seem to make much difference to heart health.
"It's encouraging to learn that older adults can make simple changes to reduce their heart failure risk, like engaging in moderate physical activity, not smoking and maintaining a healthy weight," said lead thor Dr Liana Del Gobbo, of Tufts University, Boston.
"Although dietary patterns were not related to heart failure risk in this study, eating a healthy diet is of critical importance for preventing other cardiovascular diseases, type 2 diabetes, and other chronic diseases" said lead author Liana Del Gobbo, PhD, research fellow at Tufts University.
Heart failure is a condition where the heart fails to pump as much blood as the body needs when the muscle becomes too weak or stiff to work properly. It leads to breathlessness, feeling very tired and ankle swelling.
It usually occurs following a heart attack and in its severest form heart failure has a life expectancy worse than many cancers.
More than 500,000 people in Britain suffer from the conditon, and almost as many have damaged hearts but, as yet, have no symptoms. Hundreds of patients require new hearts and 200 transplants take place in the UK each year. But two out of 10 people will die waiting for an organ due to a severe shortage of donors.
Charities said the study showed that living a healthy lifestyle was crucial to preventing heart failure.
Professor Jeremy Pearson, Associate Medical Director at the British Heart Foundation, said: "More than half a million people across the UK have been diagnosed with heart failure, an incurable condition where your heart has been permanently damaged, often following a heart attack.
"This research shows that not smoking, maintaining a healthy weight, and getting plenty of exercise are associated with a significantly reduced risk of heart failure, a really debilitating disease.
"We know that even small changes can make a big difference to your heart health, and it's never too late to start.
"Recent advances in regenerative medicine have made mending damaged hearts a realistic goal, but we must fund more research to make this happen."
2014 was a bumper year for Irish birth rate's
Ireland had the highest birth rate in the EU last year at 14.4 per one thousand residents.
That is compared to the EU average of 10.1.
According to EU population estimates from Eurostat, Ireland now has a population of 4.6 million – just 0.9% of the EU population.
With 16% of the total EU population, Germany continues to be the most populated EU country, ahead of France at just over 13%, and the UK at 12.9%.
Smoking is linked to Schizophrenia
A study says?
People with schizophrenia are three times more likely to smoke than those who don't have the mental health condition, a study published in Lancet Psychiatry says.
Experts at King's College London say that although links have been noted before between tobacco use and psychosis, there's been little research into the possibility that smoking can cause schizophrenia.
Past studies have looked at why people with psychotic conditions smoke. Explanations have included relief from boredom or distress and a desire to self-medicate.
Reviewing the Evidence
To explore the subject further, researchers reviewed 61 studies that included nearly 15,000 tobacco users and 273,000 non-users. They found that 57% of people diagnosed with schizophrenia for the first time were smokers.
Also, people who were diagnosed for the first time were three times more likely to smoke than those who hadn't had schizophrenia.
A possible explanation is that heavy cigarette smoking increases the ability to make the chemical dopamine in part of the brain. Dopamine is thought to play an important role in the development of schizophrenia.
The Role of Dopamine
"Excess dopamine is the best biological explanation we have for psychotic illnesses such as schizophrenia," says Robin Murray, professor of psychiatric research at King's College London, in a statement. "It is possible that nicotine exposure, by increasing the release of dopamine, causes psychosis to develop."
The authors say it's hard to prove from available research that smoking tobacco actually causes schizophrenia. For instance, they were unable to filter out the effects of other substances, such as marijuana.
Still, as a precaution, co-author Sameer Jauhar urges people working with schizophrenia patients to try to get them to take part in smoking cessation programs.
"Regardless of these findings, there is overwhelming evidence that nicotine use through tobacco smoking is one of the most dangerous drug problems in the world," says Michael Bloomfield, MD, clinical lecturer in psychiatry at University College London. "Anyone who needs help in stopping smoking should speak with their doctor."
'Legendary' beetle found on W
imbledon Common
The single specimen of the False Click Beetle, Eucnemis capucina, discovered on the 1,140-acre Wimbledon Common in south-west London
It was famously home to the Wombles, but Wimbledon Common now has an even more unusual resident, scientists have discovered.
A single specimen of the globally rare False Click Beetle has been discovered in the 1,140-acre green space in south-west London, the first ever seen in the capital.
And like the pointy-nosed "wombling free" creatures that starred in the cult 1970s children's TV series, the insect is known for its environmental credentials.
The Wombles' goal in life was to keep Wimbledon Common tidy by clearing up and recycling rubbish. Similarly, the False Click Beetle, Eucnemis capucina, is associated with unspoiled natural environments.
A member of staff at London's Natural History Museum made the surprise find during a recent insect survey conducted with the Conservators of Wimbledon Common.
Dr Max Barclay, manager of the museum's 10 million strong beetle collection, said: "Sampling beetles is like taking a blood test, it gives you quick idea of a whole ecosystem's health. This beetle is associated with only the best and oldest woodlands, and previously was known only from the New Forest and Windsor Forest.
"To find such a species at Wimbledon Common shows that the conservators are taking good care of the site, and managing it for wildlife, and that there are old important trees there that can support populations of rare insects.
"Insects are the bottom of the animal food chain, so if insect populations are healthy it bodes well for bats, birds and other animals."
He added: "Eucnemis is a kind of legendary beetle. No-one I know has ever seen it, and the newest specimens in Natural History Museum are from the 1930s. Finds such as these are a perfect example of how our research and collections show the diversity of life on our planet."
The beetle is considered a "Grade One" indicator of good quality ancient woodland.
Keita Matsumoto, who found the insect, said: "It was a lucky shot. I'm pleased I was swinging my insect net that afternoon instead of my tennis racquet."
In total the survey recorded more than 100 species of beetle, many of which had not been reported in the area before.