Thursday 28th May 2015
Irish naval vessel the LÉ Eithne rescues 201 migrants
Irish ship responded to vessels in potential distress off Libya coast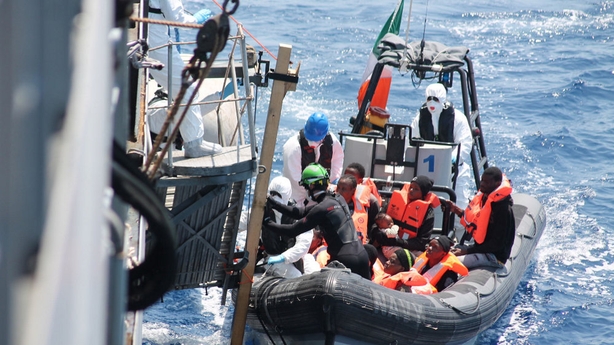 The LÉ Eithne completing the rescue of dozens of migrants off the coast of Libya on Thursday.
Irish naval vessel the LÉ Eithne completed the rescue of 201 migrants off the coast of Libya on Thursday.
The Irish Flagship received an alert at 8am from the Italian Marine Rescue Coordination Centre and the Italian Task Force Commander. It said there were five vessels in potential distress approximately 60 km off the coast of the North African state.
The LÉ Eithne, which was tasked by the Italian coastguard to recover the occupants of two of the vessels, arrived at the scene at 10am. The other three were attended to by other naval vessels.
It was the first time the LÉ Eithne had been involved in a rescue operation of migrants in the Mediterranean. It was carried out in co-operation with Italian, German and British ships.
The migrants were part of a flotilla of five makeshift inflatable vessels that were attempting to cross the South Central Mediterranean. The migrants included men, women, children, and one infant.
Sea conditions during the rescue were calm.
Minister for Defence Simon Coveney said the navy was providing an "invaluable asset" in terms of the migrant crisis.
"LÉ Eithne under the command of her captain, Commander Pearse O'Donnell, and her crew are providing an invaluable asset in assisting with the Mediterranean migrant crisis," he said.
"The operation today demonstrates clearly the value of our participation in this important humanitarian mission."
The navy said it is providing medical assistance, food, water and dry clothes to those in need.
The migrants will be transferred to the HMS Bulwark where they will be transported to a port in Italy.
Ireland's blue flag awards 2015:
Is your local beach on the list?
Six beaches conferred with 'dual' Blue Flag and Green Coast status
Portmarnock is one of six beaches that have achieved dual Blue Flag and Green Coast status.
Blue Flags have been awarded to 81 beaches and five marinas around the State's coastline – six more than last year.
Six of the 81 beaches are also among 58 locations conferred with national Green Coast status by Minister for Environment Alan Kelly on behalf of An Taisce.
Portmarnock, Portrane and Donabate in north Dublin, Salthill and Silver Strand in Galway and Rosses Point in Sligo have secured this "dual status", according to the environmental organisation.
Wexford's Ballinesker beach has been given a Blue Flag for the first time, as has the marina at Kinsale Yacht Club, Co Cork, while the coveted status has been regained at Cork's Redbarn and Garretstown beaches.
Five beaches which lost out last year due to works associated with severe winter storm damage have also regained their flags: Miltown Malbay and Spanish Point in Co Clare, Mulranny and Bertra in Co Mayo and Rossbeigh, Co Kerry.
Wicklow's Brittas Bay North, Enniscrone, Co Sligo and Skerries south beach in the Fingal area of north Dublin lost their flags due to failure to comply with water quality requirements.
Beaches have to meet a total of 33 criteria for the Blue Flag status, which is administered by An Taisce on behalf of the Foundation for Environmental Education. In the North, 10 beaches and two marinas have been awarded blue-flag status.
Kerry and Donegal are leading counties with a total of 13 Blue Flags, while Mayo has a total of 12 and Clare has a total of nine.
Co Galway's five beaches retaining Blue Flags include Loughrea lake in the east of the county, while the city retained its two flags at Salthill and Silverstrand.
The five marinas which hold Blue Flags are Killinure in Co Westmeath, Kilmore Quay and New Ross in Co Wexford, the Royal Cork Yacht Club at Crosshaven, and Kinsale, Co Cork.
Green Coast awards, which are given to areas classified as "exceptional places to visit", were conferred on Bishop's Quarter and Seafield in Co Clare, for the first time, while Ballyhealy, Ballmoney, Booley Bay, Grange and St Helen's Bay in Co Wexford also secured this status.
Fingal's The Burrow and Cork's Inchydoney East have received Green Coast awards for the first time.
Donegal's Rathmullan and Sligo's Enniscrone failed to meet the Green Coast water quality standards, while Ballycastle in Co Mayo and Skerries in north Dublin did not apply to retain their 2014 Green Coast designations.
Minister for the Environment Alan Kelly, who presented at total of 144 awards at Ballinskelligs beach, Co Kerry, paid tribute to the "sterling efforts of local authorities, An Taisce and local communities" in ensuring that their beaches "meet the standards of excellence required for a Blue Flag or Green Coast award".
An Taisce's coastal programmes manager Annabel FitzGerald noted that those beaches and marinas which "achieved the accolade" had complied with "strict criteria relating to water quality, safety, facilities for visitors, beach management, environmental education and the provision of information".
She also paid tribute to the volunteers involved in 440 "clean coast" groups, noting that over 500,000 pieces of litter and other items were removed from the marine environment during some 800 beach cleans last year.
County,                      Beach.
| | |
| --- | --- |
| Antrim | Portrush (Mill) West |
| Antrim | Portrush Whiterocks |
| Clare | Cappa Pier, Kilrush |
| Clare | Kilkee |
| Clare | Doonbeg |
| Clare | Spanish Point |
| Clare | Miltown Malbay |
| Clare | Lahinch |
| Clare | Fanore, Ballyvaughan |
| Clare | Ballycuggeran, Killaloe |
| Clare | Mountshannon |
| Cork | Redbarn, Pilmore |
| Cork | Garrylucas, Ballinspittle |
| Cork | Garretstown, Ballinspittle |
| Cork | Inchydoney, Clonakilty |
| Cork | Owenahincha, Rosscarbery |
| Cork | Tragumna, Skibbereen |
| Cork | Barleycove |
| Derry | Magilligan (Benone), Limavady |
| Derry | Downhill, Castlerock |
| Derry | Castlehill |
| Derry | Portstewart |
| Donegal | Bundoran |
| Donegal | Rossnowlagh |
| Donegal | Murvagh, Laghy |
| Donegal | Fintra, Killybegs |
| Donegal | Naran/Portnoo |
| Donegal | Carrickfinn, Anagary |
| Donegal | Killahoey, Dunfanaghy |
| Donegal | Marblehill, Dunfanaghy |
| Donegal | Downings, Rosguill Peninsula |
| Donegal | Magherwarden/Portsalon, Fanad |
| Donegal | Lisfannon, Fahan |
| Donegal | Culdaff |
| Donegal | Stroove |
| Down | Crawfordsburn, Bangor |
| Down | Tyrella, Downpatrick |
| Down | Murlough Beach, Newcastle |
| Down | Cranfield Bay, Kilkeel |
| Dublin | Portrane |
| Dublin | Balcarrick |
| Dublin | Donabate |
| Dublin | Portmarnock |
| Dublin | Seapoint |
| Dublin | Killiney |
| Galway | Loughrea Lake |
| Galway | Traught, Kinvara |
| Galway | Salthill |
| Galway | Silver Strand |
| Galway | Trá Mhór, Indreabhán |
| Galway | Trá an Dóilin, An Cheathrú Rua |
| Galway | Cill Mhuirbhigh, Cill Rónáin, Aran |
| Kerry | Derrynane, Caherdaniel |
| Kerry | Derrynane |
| Kerry | Ballinskelligs |
| Kerry | White Strand, Caherciveen |
| Kerry | Kells, Caherciveen |
| Kerry | Rossbeigh |
| Kerry | Inch |
| Kerry | Ventry |
| Kerry | Magherabeg, Castlegregory |
| Kerry | Fenit |
| Kerry | Banna, Ardfert |
| Kerry | Ballyheigue |
| Kerry | Ballybunion North |
| Kerry | Ballybunion South |
| Louth | Carlingford, Templetown |
| Louth | Clogherhead |
| Louth | Port, Clogherhead |
| Mayo | Carrowmore, Louisburg |
| Mayo | Bertra, Murrisk |
| Mayo | Clare Island harbour |
| Mayo | Dooega, Achill Island |
| Mayo | Keel, Achill Island |
| Mayo | Keem, Achill Island |
| Mayo | Dugort, Achill Island |
| Mayo | Golden Strand, Achill Island |
| Mayo | Mullaghroe, Belmullet |
| Mayo | Elly Bay, Belmullet |
| Mayo | Ross Killala, Belmullet |
| Sligo | Rosses Point |
| Waterford | Counsellors' Strand, Dunmore |
| Waterford | Dunmore East |
| Waterford | Tramore |
| Waterford | Dungarvan |
| Waterford | Clonea |
| Wexford | Courtown |
| Wexford | Morriscastle |
| Wexford | Ballinesker |
| Wexford | Curracloe |
| Wexford | Rosslare |
| Wicklow | Greystones |
| Wicklow | Arklow |
| Wicklow | Brittas Bay South |
This new app could test the eyes of hundreds of people living in developing countries
A new app has been created to accurately test the eyes of people living in remote rural areas in developing coutries.
The Portable Eye Examination Kit (Peek) is designed for use anywhere in the world and doesn't rely on large hardware or electricity supply for standard testing methods.
READ MORE: Here's what Google has in store for you with its latest version of Android .
Peek has a series of apps inlcuding the Peek Acuity which determines how clearly a person sees.
It features a letter E on the screen in four different positions. The tester then swipes in the direction the patient thinks the arms of the E are facing.
The app was tested on 233 people in Kenya aged 55 and over and produced results that were as accurate as standard paper eye test charts or those in clinics.
Dr Andrew Bastawrous, who co-founded Peek, had the idea for the app when transporting heavy eye equipment to difficult-to-reach areas of Kenya. (PEEK)
He said: "With most of the world's blind people living in low-income countries, it is vital we develop new tools to increase early detection and appropriate referral for treatment. Mobile phone use is now so widespread that it seemed to be an ideal platform.
"In this study we aimed to develop and validate a smartphone-based visual acuity test for eyesight which would work in challenging circumstances, such as rural Africa, but also provide reliable enough results to use in routine clinical practice in well-established healthcare systems.
"Our ultimate hope is that the accuracy and easy to use features of Peek will lead to more people receiving timely and appropriate treatment and be given the chance to see clearly again." (PEEK)
Peek was developed by the Glasgow Centre for Ophthalmic research, the University of Strathclyde and the London School of Hygiene and Tropical Medicine, where Dr Bastawrous is a lecturer.
Less protein 'key to longer life'
Cutting down on protein and upping consumption of carbohydrates may be the key to living a longer, healthier life,
New research suggests.
                 Reduce              Consumption                  Increase
In tests on mice, changing the mix of protein and carbs produced the same benefits as reducing calorie consumption by 40%.
Previous research has shown that strict calorie restriction can improve metabolism and extend lifespan across a wide range of species. But such a drastic strategy would be challenging for most people and may harm health.
Eating smaller amounts of high quality protein and a lot of healthy carbohydrates might prove more practical for humans, scientists believe.
Good sources of protein include eggs, milk, white meat and soya. Consuming healthy carbohydrates means choosing foods such as fresh fruits and vegetables, whole grains and pulses, and avoiding refined sugar, white bread and pastries.
Researcher Dr Stephen Simpson, from the University of Sydney in Australia, said: "We've shown that when compared head-to-head, mice got the same benefits from a low protein, high carbohydrate diet as a 40% caloric restriction diet.
"Except for the fanatical few, no one can maintain a 40% caloric reduction in the long-term, and doing so can risk loss of bone mass, libido and fertility."
The mice were observed for eight weeks as they ate a range of diets with different protein and carbohydrate ratios in conditions where food was restricted or provided at all times.
Low protein/high carbohydrate (LPHC) diets when food was always available delivered the same benefits as calorie restriction in terms of insulin activity, blood sugar and cholesterol levels, the scientists found.
Even though mice on LPHC diets ate more – increasing their food and energy intake by 25% to 30% – their metabolism was higher than that of calorie-restricted mice and they did not gain extra weight.
Calorie restriction did not provide any additional benefits for LPHC mice.
If the findings – published in the journal Cell Reports – apply to humans, adjusting protein and carbohydrate intake could lead to healthier ageing, said the researchers.
Dr Simpson added: "It still holds true that reducing food intake and body weight improves metabolic health and reduces the risk of diseases like Type 2 diabetes, obesity, and fatty liver disease.
"However, according to these mouse data and emerging human research, it appears that including modest intakes of high-quality protein and plenty of healthy carbohydrates in the diet will be beneficial for health as we age."
Early humans migrated out of Africa through Egypt rather than Ethiopia, new study says
A study of present-day genomes of north-east Africans suggests the northern route through Egypt and the Sinai was more likely
Early humans migrated out of Africa more than 60,000 years ago through Egypt rather than crossing the shallow sea that separated Ethiopia from the Arabian Peninsula as some archaeologists have suggested, a study of the DNA of modern people has found.
Scientists have long argued about which of the two migratory routes the first humans took when they emerged from Africa to colonise the Middle East, Asia and other parts of the globe. Now a study of present-day genomes of north-east Africans suggests the northern route through Egypt and the Sinai was more likely.
The study analysed the genomes of 100 Egyptians and 125 Ethiopians and compared their DNA to people currently living in Eurasia and to other parts of Africa. It concluded that the ancient migratory route through the Sinai Peninsula has left its mark on the DNA of people living in Egypt today, scientists said.
Modern Egyptians show a greater genetic similarity than modern Ethiopians to present-day Eurasians which supports the idea that Egypt, and not Ethiopia, was the last stop on the African continent before early humans came out of Africa to colonise other parts of the world, they said.
"If people left Africa from the north then people who live there now should show the highest genetic similarity to Eurasians. If they left from the south through Ethiopia, then Ethiopians should show the highest similarity," said Luca Pagani of the Wellcome Trust Sanger Institute in Cambridge, and lead author of the study published in the American Journal of Human Genetics.
"Two geographically plausible routes have been proposed: an exit through the current Egypt and Sinai, which is the northern route, or one through Ethiopia, the Bab el Mandeb strait, and the Arabian Peninsula, which is the southern route," Dr Pagani said.
"In our research, we generated the first comprehensive set of unbiased genomic data from Northeast Africans and observed, after controlling for recent migrations, a higher genetic similarity between Egyptians than between Ethiopians and Eurasians – suggesting that Egypt not Ethiopia was the last stop," he said.
For years it was believed that Ethiopia was the last stop before humans spread across the rest of the world
The researchers attempted to compensate for more recent migrations of people in the region between Eurasia and Africa, which must have occurred over the past few centuries, but still found a closer connection between modern-day Egyptians and Eurasians than between Ethiopians and Eurasians.
They also found that modern Egyptians were more similar genetically to modern east Africans than to west Africans, which supported the idea more recent human migrations were not interfering with the findings.
"The most exciting consequence of our results is that we draw back the veil that has been hiding an episode in the history of all Eurasians, improving the understanding of billions of people of their evolutionary history," Dr Pagani said.
The study found that people outside of Africa split from the Egyptian genomes about 55,000 years ago, which the split from Ethiopian genomes occurred about 65,000 years ago, suggesting that Egypt was the last stop before emerging from Africa.
"It is exciting that, in our genomic era, the DNA of living people allows us to explore and understand events as ancient as 60,000 years ago," Dr Pagani said.
Previous genetic studies in mitochondrial DNA, which is inherited down the maternal line, have suggested a migratory route that exited Africa from Ethiopia. However, Dr Pagani said that this work is not in conflict from the latest study as it is possible that some earlier migrations did occur across the strait of Bal el Mandeb to the Arabian Peninsula.