Thursday 19th June 2014
AIB says it intends to repay the €20.8 billion bailout from Irish State
 
The banks chairman tells shareholders that repayment of bailout was 'constant focus' of his board
AIB chairman David Hodgkinson told shareholders today that the bank intends to repay the €20.8 billion in bailout funds that it has received from the State since 2009.
"This bank will over time repay the €20 billion to the State," he said in response to a rambling question from shareholder Niall Murphy at its annual general meeting in Ballsbridge. "That is our intention. We have to create a viable institution and we are well on that path."
Earlier, in a prepared statement, Mr Hodgkinson said it was the "constant focus" of the board of AIB to repay the State and he said the bank had paid €2 billion in recent years to the exchequer in fees related to the Government guarantees and coupon payents on its contingent capital notes.
Mr Hodgkinson also revealed that AIB chief executiveDavid Duffy has agreed to a permanent contract with the bank, having previously been on a three-year contract that was due to end in December.
There was no financial update from AIB at its AGM this morning, given that it had issued an interim management statement in May and its results for the first half of this year will be published on July 30th.
Mr Hodgkinson said a number of milestones had been met by the bank recently, including approval for its restructuring plan by the European Commission. He reiterated that AIB had returned to post-provision profitability during the first quarter of this year.
Mr Hodgkinson said AIB plans to deliver mortgage approvals of between €7 billion and €10 billion each year out to 2017. Lending drawdowns by customers in its combined businesses were 60 per cent higher during the first three months of this year when compared with the same period of 2013.
He said mortgage drawdowns in the Republic were 50 per cent higher during the first three months of 2014 when compared to the same period last year.
The AIB chairman added that mortgage arrears in Q1 was "stable".
"We are fully aware of the distress suffered by many customers in financial difficulty and we are making real and tangible inroads into restructuring their borrowings," he said.
On SME lending, Mr Hodgkinson said credit demand is improving and lending approvals in the first quarter of 2014 were 25 per cent higher than the same period of last year.
The bank is to hold an extraordinary general meeting later to deal with a proposed capital reorganisation.
AIB currently has in excess of 523 billion shares in issue, 99.8 per cent of which are held by the State, and the bank plans to simplify this structure.
European court rules against Dunnes Stores in copyright case
 
Karen Millen the designer says Dunnes should not be allowed copy its skirt and top.
A sweater designed by Karen Millen in 2005 (left) and another design which appeared on the shelves of Dunnes Stores outlets in 2006.
The European Court of Justice has ruled against Dunnes Stores in relation to arguments it has made in the case where British fashion company Karen Millen is complaining about the copying of its designs.
A number of questions were referred to the court by the Irish Supreme Court concerning the interpretation of EU regulations on the protection of fashion designs. The outcome is seen in some quarters as having ramifications for all high-street retail chains.
In the High Court, Ms Justice Mary Finlay Geogheganruled that Dunnes, in offering for sale a black knit top and blue and brown shirts, infringed Karen Millen's rights to unregistered community design under council regulation (EC) number 6/2002 in each of the three designs.
The issue was then appealed to the Supreme Court, where Dunnes argued that as Karen Millen had failed to prove the individual character of the designs at issue, it was not the holder of an unregistered community design.
It said the individual character of a design must be assessed by reference not only to one or more individual designs made available to the public previously, but also by a combination of features taken in isolation and drawn from a number of earlier designs.
In its judgment, the court in Luxembourg said that the individual character of a design must be assessed by reference to one or more specific, individualised, defined and identified designs from among all the designs which have been made available to the public previously.
"Consequently, that assessment cannot be conducted by reference to a combination of features taken in isolation and drawn from a number of earlier designs."
The Supreme Court had already rejected some of the Dunnes Stores claims and a full hearing of the appeal by the Irish retailer can now go ahead after the rulings from the Luxembourg Court.
In the European court's judgment, it says that the British fashion designer put the shirt and top on sale in Ireland in 2005, and that the items were purchased by representatives of Dunnes Stores. "Dunnes subsequently had copies of the garments manufactured outside Ireland and put them on sale in its Irish stores in late 2006."
Irish consumer prices are 18% higher than the EU average
 
Figures from Eurostat also show alcohol and tobacco prices are on average 78% more expensive than the EU.
Even after six years of austerity, consumer prices in Ireland are on average 18% higher than the European Union norm, prompting renewed concern about the country's competitiveness.
According to figures from Eurostat, Ireland is considerably more expensive than most of its European neighbour's when it comes food, alcohol, restaurants, hotels, transport and electronic goods.
The figures, which are based on data from last year, ranked Ireland as the fifth most expensive of 28 member states, behind Denmark, Sweden, Luxembourg and Finland, with prices estimated to be 118% of the EU average.
This placed us ahead of countries like the UK, France,Germany and Spain.
Despite the country's large agricultural sector, the price of food and non-alcoholic beverages here was 17% higher than the average.
In terms of alcohol and tobacco, Ireland ranked as the most expensive state in the EU and by some way, with prices 78% higher than the average.
However, the study noted the large price variation in this category reflected, in the main, differences in taxation.
The Drinks Industry Group of Ireland called for the reversal of excise duty on alcohol, saying the "unfair" excise rate was a tax on jobs, tourism and consumers.
The cost of restaurants and hotels in Ireland was found to be 28% above the average, placing Ireland third behind only Sweden and Denmark as the most expensive place to stay and eat out.
Ireland was also ahead of the norm in terms of the cost of personal transport equipment (111 %) and when it came to consumer electronics (105%).
Clothing was the only category in which prices here were found to be below the average, in this case by 2%.
Alan McQuaid, economist with Merrion Stockbrokers, described the figures as disappointing, especially as the only countries with higher prices than Ireland were the traditionally tax-high states of Scandinavia and cash-rich Luxembourg.
"We were a lot closer to the EU on the prices front at the height of the crisis, though we were higher on average at the height of the boom."
"The data highlight that Ireland is in danger of becoming uncompetitive, charging more for its goods than other EU member states."
Mr McQuaid said higher taxes were clearly a factor, noting the VAT and excise duty hikes that were implemented as part of the fiscal austerity process.
"With an increase in corporation tax being ruled out, and little scope left for income tax hikes, then the only option left is indirect taxes, which of course add to prices."
"The other key issue which these figures highlight is the underlying cost for retailers – e.g. rents, insurance and wage costs – are higher than elsewhere. You cannot look to have one of the highest minimum wages in Europe, and then not be surprised that prices are more expensive than the rest of the bloc."
Whatever about wages, he said the Government need to address the issue of high insurance, rents and other administrative costs.
"Overall, the figures are no great surprise and despite the low headline annual inflation rate, should be a reminder to policymakers not to rest on their laurels and take things for granted."
Recent consumer price data from the Central Statistics Office showed suggested annual inflation was running at just 0.4% in May.
A breakdown of the figures showed, however, the cost of renting a home rose more than 20 times faster than the average level of inflation over the past 12 months.
Meanwhile:-
The rate of jobless households in Ireland is far above the European norm
 
About a quarter of Irish households are currently jobless at a level "far above" the European norm in a situation described as "not acceptable" says Taoiseach Kenny.
A new report by a Government-sponsored think tank has found that 23% of Irish households are jobless, compared to a European average of just 11%, and that 56% of Irish jobless households have children.
The National Economic and Social Council warned that these households have a high risk of poverty, with the danger of passing on joblessness and poverty across generations.
Taoiseach Enda Kenny has now pledged to break the cycle and reiterated the Government's commitment to "continue the plan to dismantle the passive welfare system" which had "abandoned such large numbers of households to lifelong dependency on the State".
"This is essential if we are to break the cycle of poverty and unemployment associated with jobless households," he said.
The report, 'Jobless Households: An Exploration of the Issue', found that those who live in jobless households are more likely to have no educational qualifications, to have never worked or to be in the unskilled social class.
They are also more likely to be renting their accommodation, to be single or parenting alone, and to either have a disability or to live with someone with a disability.
The NESC has pointed out that because of the multiple reasons for joblessness, a one-solution-fits-all approach will not work and that packages of support must reflect individual needs.
Adult literacy, child development, family supports, addiction services, disability services, housing, education and training, public and community employment as well as engagement with employers must all form part of a tailored service to cater for people's circumstances, the NESC said.
Helen Johnston, author of the report (pictured), explained that the reasons for household joblessness are complex – but the age, level of education and health of the adults in the household are all factors.
Blind dog reacts to seeing his owner and family again
Duffy is an Irish terrier that has risen to YouTube fame thanks to a video put up two days ago by his owner, YouTuber Benjamin May.
According to May Duffy had gone blind from complications with doggy diabetes. However, after regulating the dog's condition, Duffy was able to get a restorative surgery to bring back his sight again.
As he darts around the room with an Elizabethan collar—the cone given to pets after surgical procedures—his tail is wagging and he starts to whine with excitement. But enough of this play-by-play. Take a look at the video above.
After the successful operation adorable Duffy is let into the room where his owners are waiting and is overcome with doggy delight.
He clearly recognises them and not knowing who to greet first the happy chappy chases around the room in ecstasy.
You Tuber Ben Myer uploaded the smile-inducing video two days ago.
He wrote: "This is my Irish Terrier Duffy. He's a rescue dog and he's had a lot of struggles with his health.
"He developed diabetes and lost his eyesight. With medication we got his diabetes stable and he qualified for eye surgery to give him back his sight. Here is seeing my parents afterwards."
A record number of flamingo chicks raised in Gloucestershire England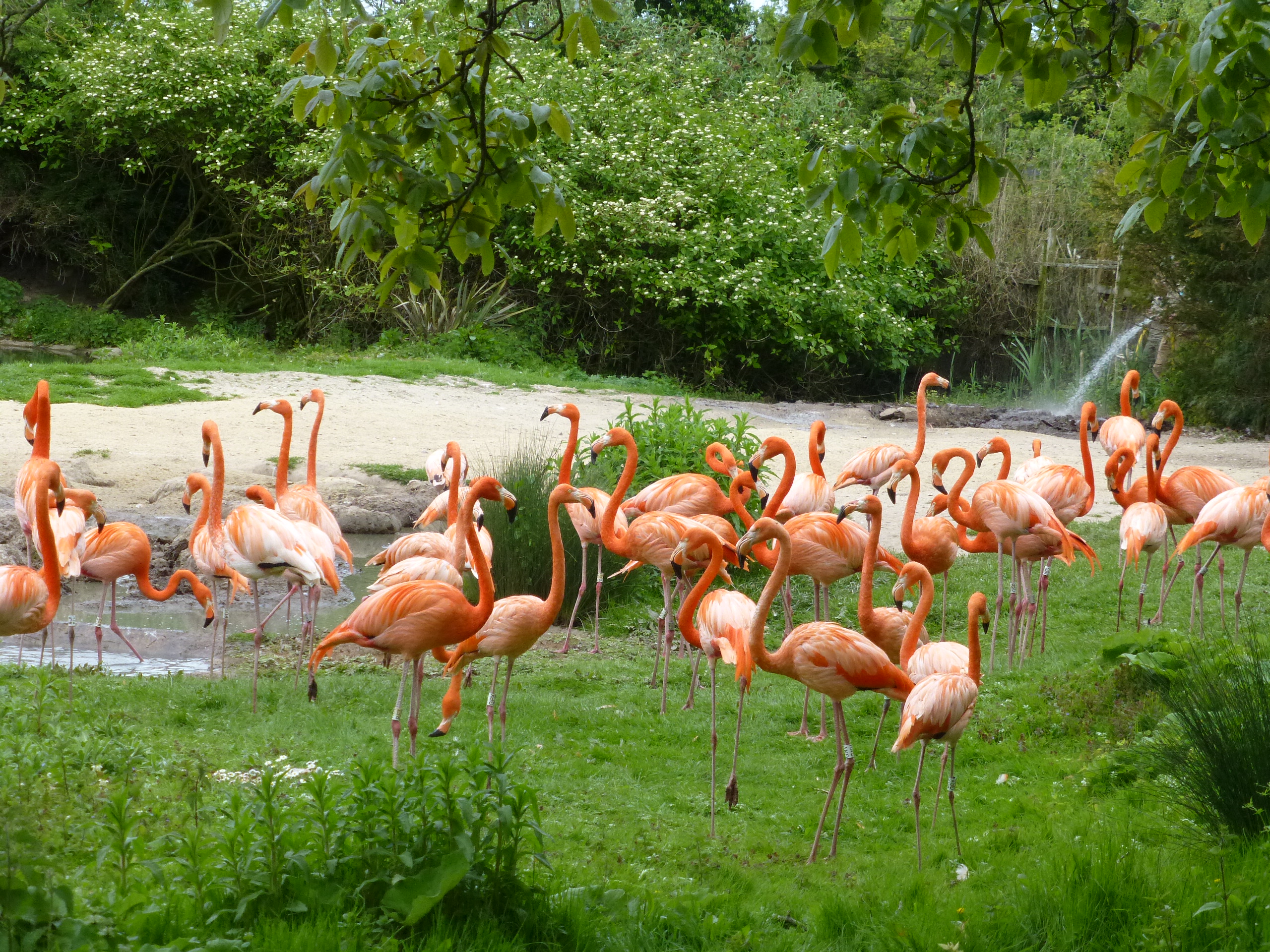 A total of 35 fluffy chicks are being raised at the Wildfowl and Wetlands Trust in Slimbridge, whose flock is the largest in Europe with 245 birds.
A Record number of chicks are being reared at Europe's largest greater flamingo flock. A total of 35 fluffy chicks are being raised at the Wildfowl and Wetlands Trust in Slimbridge, Gloucestershire, England.
The wetland centre's flock is the largest in Europe with 245 birds and the number of newborns has smashed the previous record of 25 set in 2010.
Mark Roberts, aviculture manager, said: "It is really quite incredible as the wet weather in May certainly made rearing challenging for them.
"Their nesting island is now made out of sand rather than mud which has been shown in recent studies to be better and they really like the environment of Flamingo Lagoon, so I think it must be down to these factors.
"It is a stunning sight to see all the chicks around the nesting island and the observatory has been busy with visitors enjoying watching all the action."
Now the successful flock is taking great care rearing the bumper yield of chicks using supervised 'creches' to allow the parents time to themselves.
The chick's parents still crop feed the bird but for long periods of the day the chicks will stay with each other with just seven or eight 'nanny' adults supervising them.
Mr Roberts added: "The creches are fun to watch. If a plane flies over or if there is any other disturbance that they deem a threat the chicks all huddle together with the 'nanny' birds forming a protective ring on the outside.
"Flamingos are extremely sociable birds with a complex hierarchy. This emphasis on flock behaviour starts from when they are just days old when they join the creche."
Four of the world's six flamingo species are classed as 'Vulnerable' or 'Near Threatened' by the International Union for Conservation of Nature (IUCN).
It is thought there are less than 30 breeding sites left in the whole world.