Tuesday 8th April 2014
President Higgins & Sabina started their state visit to Britain today Tuesday
Irish President Michael D Higgins started his official state visit to Britain today.
His extended four day trip, three years after the Queen visited Ireland, will include an address to the Houses of Parliament and a focus on the contribution Irish emigrants have made to UK life.
"We are at a very interesting point in history, when we have, following Her Majesty's visit to Ireland, such good relations between our people," he said.
"My hope for the visit at the end of it all is that people will in ever more numbers come to share in experiencing the history, the present circumstances and culture, and do so in ever greater numbers."
The theme of the state visit will be on the two countries' shared histories.
And the significance has been further deepened with the presence of Northern Ireland Deputy First Minister and ex-IRA commander Martin McGuinness who will attend a banquet hosted by the Queen – a move unthinkable only a decade ago.
Mr Higgins, who is accompanied by his wife Sabina, addressed the Northern Ireland peace process before he left amid wider discussions about how to deal with the past.
He said it would be wrong to wipe the slate clean over historic conflict which affected relations between Britain and Ireland and that progress should not be about forgetting the past.
"The peace process is that, it is a process that comes after the formal agreement at one level. Ultimately it is an exercise in consciousness at the level of community," Mr Higgins said.
"The challenge is to hand to a future generation all of the prospects of the future. You are not inviting them to an amnesia about any deep dispute.
"There are a lot of very difficult memories and it would be to my mind wrong to suggest to anyone that you should as it were, wipe the slate clean.
"I think Her Majesty in coming to Ireland and addressing for example issues of relations between our two people was doing it the right way."
The highly successful state visit to Ireland by the Queen and the Duke of Edinburgh in May 2011 paved the way for the return by Mr Higgins and makes the attendance of Mr McGuinness at the royals' home, Windsor Castle, the latest in a series of recent milestones in Anglo-Irish relations.
In remarkable scenes, the Queen paid her respects to republican dead at Dublin's Garden of Remembrance, visited Croke Park – site of the 1920 Bloody Sunday massacre – and made a widely-praised speech on Anglo-Irish history at Dublin Castle.
Since then, a number of meetings between Mr Higgins – a former Labour government minister, a poet and academic – and members of the Royal Family have taken place.
Although the Irish head of state has travelled to events in London, Manchester, Liverpool and Scotland last year, these were not official visits.
Mr Higgins will spend four days on the extended visit as a guest of the monarch, a sign he says is symbolic of the importance both countries place on the normalisation of relations more than 90 years after independence.
Despite the feel good factor around the trip in general there is discomfort in some staunch conservative circles about Mr McGuinness' presence.
Efforts to cement reconciliation between republicans and the state took a massive leap forward when the senior Sinn Fein figure shook hands with the Queen during a trip to Belfast two years ago.
He was given the green light to join the latest celebrations after a meeting of the leadership of his party at the weekend even though they snubbed the ground-breaking royal visit to Ireland in 2011.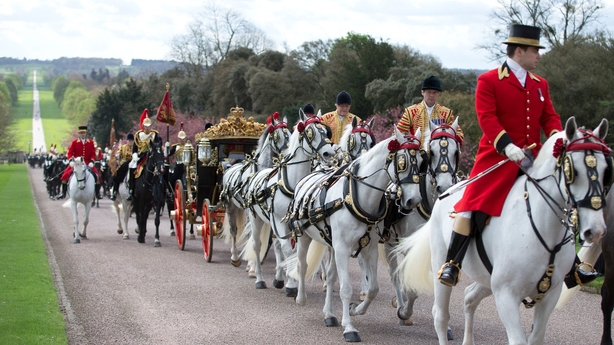 Highlights of the visit which begins with a ceremonial arrival at Windsor Castle will include the President's address at Westminster – another first for an Irish head of state.
Mr Higgins will also get to view the colours of disbanded Irish regiments in the British army while in Windsor.
In an interview with Irish state broadcaster RTE, he praised the royal for setting the scene for the return visit and a new era of Anglo-Irish relations in her speech at Dublin Castle.
"The words chosen and the symbolic way they were delivered by the Queen herself were extraordinarily important," he said.
"The decision for example not to ignore the past but to address it, to go on and say as well, not only would things have been done differently but maybe not all, that was adding generosity to a kind of an ethic of memory."
Mr Higgins said it was an invitation to people to be firm about events in the past but not be crippled by them in the present.
Elsewhere, the President will visit the Royal Shakespeare Company in Stratford-upon-Avon and he will attend another major dinner at the Guildhall in the City given by the Lord Mayor.
He will also meet Prime Minister David Cameron in Downing Street during the visit and pay tribute to the work of Irish health professionals, meet business leaders and London Mayor Boris Johnson.
The President will be joined on the trip by Irish Taoiseach Enda Kenny and Foreign Affairs Minister Eamon Gilmore.
Scientists uncover why booze makes women touchy-feely and men unfaithful by
Observing drunken VOLES
 
Researchers at an Oregon university used the famously faithful prairie vole to test how alcohol affects relationships
The study found that drunk male voles tended to stray more often while the females wanted more cuddle time
Alcohol was found to cause anxiety in females, which explains their desire to seek the comfort of their mates
Meanwhile, males were less anxious and more inclined to stray
A study published Monday helps unravel some of love's mysteries by picking apart the exploits of drunken rodents.
Scientists at the Oregon Health and Science University in Portland used drunken prairie voles to uncover what makes men more likely to be unfaithful and women more interested in snuggling when alcohol enters the equation.
They found that booze on the brain loosened up the male voles, making them more inclined to mess around. While the vodka-fueled female voles became more anxious and desirous of a furry shoulder to lean on.
Drunk rodents: Researchers plied prairie voles with alcohol to determine how the famously faithful critters might change their mating behavior
As an added bonus, researchers found that the frequency at which or amount voles imbibe is affected by how much their friends and lovers drink–just like human peer pressure.
In the study published Monday in the Proceedings of the National Acadamey of Sciences, researchers offered up a water/ethanol concoction to the famously faithful fur balls.
Prairie voles are often used in animal studies focused on human bonding and monogamy because they mate for life. Unlike some animals, they also happen to like a stiff drink now and then.
For 24 hours, male/female pairs of previously unmated voles were placed together with the booze and their drunken canoodling was observed.
Then the researchers stopped the party and separated the voles, giving them new opposite-sex playmates.
What happened then depended on whether a vole was male or female.
The Oregon Health and Science University study found that males were more likely to stray when drunk and females were more likely to want to cuddle with their mate. Subsequent tests revealed that the answer to why this was true in the voles, and why humans exhibit similar behavior, has to do with how alcohol affects the neurochemical underpinnings of anxiety
The drunken male voles tended to prefer their new, more novel female party partners to the previous females.
The females, on the other hand, preferred their old mates to the new lads and sought out more 'huddling' time with their old flames.
Interestingly, the opposite was seen in the control group that was given no alcohol.
With the teetotalers, males nearly always preferred their original mates while only two-thirds of the sober females preferred the same.
The researchers found that neuropeptides linked to anxiety were affected by the alcohol, but in opposite ways between the males and females.
Males exhibited an increase in density of their amygdalar, which is associated with lowered anxiety, while the females did not.
The scientists believe the lowered anxiety in males makes them more likely to run after new females, and away from the old and that the opposite was true for females.
'It's the first time we've shown that alcohol drinking can directly affect social bonding and that these effects are paralleled by changes in neuropeptides,' said lead researcher Andrey Ryabinin.
'This means that we can use prairie voles to model not just our alcohol-related behavior but [also] the underlying molecular influences on that behavior,' he says. 'More studies are required, but separating biological effects from purely cultural ones could lead to better treatments for both problem drinking and the resulting interpersonal conflicts.
Ireland's biggest dental group Smiles Dental now sold to Oasis Healthcare
 
Price paid for chain, founded by Emmet O'Neil and orthodontist Hugh Bradley, thought to be €36m
Smiles Dental, Ireland's biggest privately-owned dental care provider, has been sold to Oasis Healthcare for an undisclosed sum.
The price is thought to be region of £30 million (€36 million) for the company which was founded in Dublin in 2005 by Emmet O'Neil and orthodontist Hugh Bradley.
Smiles provides dental care from 77 practices in Ireland,England, Wales and Scotland. The Irish group, which has 17 clinics in Ireland, has a turnover of £70 million (€84 million).
Oasis Healthcare is Britain's largest provider of dental care and post the acquisition of Smiles it will have a turnover of £210 million and three million private and public sector patients. There will be 280 dental practices in its group post the transaction.
Oasis is owned by private equity firm Bridgepoint, which owns among other businesses Pret A Manager, the ready -to-eat salad and sandwich maker which has 300 outlets in the UK, US, France and Hong Kong.
The UK dental care firm is led by Justin Ash and chaired byStuart Rose, the former Marks & Spencer executive chairman.
Emmet O'Neil Smiles Dental chief executive said: "We were looking for a partner to help Smiles reach the next level and had examined a number of options. When I met Sir Stuart and Justin Ash I realised that there was a shared approach and a matched ambition at Oasis."
"I am delighted to be joining their team and look forward to working hard not only to integrate our business, but to grow in future and to continue delivering a modern and innovative approach to dentistry," he added.
"The team at Smiles both in the UK and Ireland have a huge amount to be proud of, and I want to take this opportunity to thank them for their loyalty, support and dedication."
Mr O'Neil said combining the two businesses would offer additional clinical services to patients and lead to other synergies. Oasis will brand Smile's UK practices as Oasis Dental Care but retain the Smiles brand in Ireland.
Justin Ash, chief executive of Oasis, said: "This is a transformational deal for Oasis and demonstrates our ability to drive growth and consolidation, building the only national brand in the fragmented dental market."
"We believe this is outstanding news for the three million patients of the combined group and all patients seeking high quality, easy accessible dental care. We are also pleased to be extending our partnership with the NHSacross the domiciles in the UK and to be providing care under the HSE in the Republic of Ireland."
Mr Ash said Oasis was "well funded to continue our growth, and actively seeking further complementary acquisitions, as well as new openings to at least double the size of Oasis."
Advanced speed camera's measures how fast our universe is expanding
 
Most accurate measure shows expansion clocked at 68 km per second. 
The largest known galaxy cluster in the distant universe, catalogued as ACT-CL J0102-4915, nicknamed 'El Gordo' (Spanish for "the fat one").
Scientists have used an advanced speed camera to clock how fast the universe was expanding when it was a quarter of its current age. Back then, it was inflating at a rate of 68km per second and today things are moving even faster.
MOST ACCURATE MEASURE SHOWS EXPANSION CLOCKED AT 68 KM PER SECOND. 
Spacetime is expanding in all directions, rushing away at a blinding pace, something confirmed in the 1930s by US astronomer Edwin Hubble. So important was the finding that the famous space telescope currently in Earth's orbit was named in his honour.
Hubble's Law describes how the farther apart two objects are in space, the faster they are accelerating away from one another. This sounds confusing but may help to explain why so many feel we are moving as quick as we can but getting nowhere fast.
Astronomers have been studying expansion speed since Hubble, and being able to measure it is central to our understanding of the universe. That is why this new, more accurate rate is important. The research team from the US, Switzerland and France presented their findings yesterday afternoon at the April meeting of the American Physical Society in Savannah, Georgia.
Crunched galaxies
In a seriously hard slog, the researchers studied the light coming from 140,000 distant quasars – crunched galaxies that are exceptionally bright and look like individual stars. "We have measured the expansion rate in the young universe with an unprecedented precision of 2 per cent," said Prof Timothee Delubac of the Centre de Saclay in France.
"If we look back to the universe when galaxies were three times closer together than they are today, we would see that a pair of galaxies separated by a million light years would be drifting apart at a speed of 68km per second as the universe expands," said Prof Andreu Font-Ribera of the Lawrence Berkeley National Laboratory in the US.
Those quasars are moving even faster today, given expansion speeds up the greater the distance between them. But what is pushing them along?
Astronomers have dubbed it "dark energy". They have no idea what it is but have calculated it makes up more than 68 per cent of the universe. All the stuff we can see like quasars and stars only accounts for 4.9 per cent of the pie.
USI Student Summit 2014 to encourage Ireland's next entrepreneurs
USI Student Summit 2014 to encourage next entrepreneurs Students at last March's announcement of the summit
The Union of Students in Ireland (USI) Student Summit 2014 will kick off at 4.30pm in Dublin today and will host more than 35 start-ups from across Ireland. State advisory bodies will also be on hand to advise the entrepreneurs of tomorrow.
The aim of the USI Student Summit 2014, according to its organisers, is to create a sense of community among young student entrepreneurs in Ireland, where they can come and learn about starting their trade, listen to people who have been successful in their field, and obtain advice on making their ideas come to life.
There will be a host of familiar tech names speaking at the event, many of which have formed their own successful start-ups, including Niall Harbison of Simply Zesty, Richie Whelan of Popdeem, Malachy Browne of Storyful, and Caroline Downey, MD, of the Olympia and Ambassador venues.
According to USI president Joe O'Connor, "This event is the first of its kind and provides an incredible opportunity for Irish student entrepreneurs to hear from inspirational speakers, learn from Ireland's most innovative start-up companies, and network with entrepreneurs. We hope that this is a USI event that continues long into the future."
The event takes place at the Print Works Conference Centre, Dublin Castle.
Homo sapiens and Neanderthals got together much more recently. A DNA link shows
New evidence suggests Homo sapiens and Neanderthals got together much more recently.
Europeans may be closer to their Neanderthal cousins than was previously thought, new research suggests.
Breeding with now-extinct Neanderthals is known to have left its traces in the DNA of modern Europeans.
But this mingling of the two human sub-species was thought to have taken place long ago in Africa, before our ancestors spread across the globe.
The new evidence suggests Homo sapiens and Neanderthals got together much more recently.
Scientists have shown that the genetic similarity between Neanderthals and non-African modern human populations must have arisen after interbreeding inEurope and Asia.
The research involved dividing up the genetic code of each sub-species to calculate the statistical likelihood of distant or recent interbreeding.
Dr Konrad Lohse, one of the scientists from the University of Edinburgh, said: "Although there has been mounting evidence for genetic exchange between modern humans and Neanderthals in Eurasia from a number of recent genetic studies, it has been difficult to rule out ancestral structure in Africa. We hope our study settles this issue."
Before they died out around 30,000 years ago, Neanderthals co-existed with early modern humans in Europe and Asia for thousands of years.
Both groups first evolved in Africa before spreading out from the continent at different times, and are believed to have had a common ancestor.
Neanderthals are thought to have left Africa more than 200,000 years before early modern humans.