Tuesday 10th December 2013
My friend Nelson Mandela, the great man who could not cry
Bono Say's 
 
Nelson Mandela  has been a forceful presence in my life going back to 1979, when U2 made our first anti-apartheid effort'
As an activist I have pretty much been doing what Nelson Mandela tells me since I was a teenager. He has been a forceful presence in my life going back to 1979, when U2 made our first anti-apartheid effort. And he's been a big part of the Irish consciousness even longer than that.
Irish people related all too easily to the subjugation of ethnic majorities. From our point of view, the question as to how bloody South Africa would have to get on its long road to freedom was not abstract.
Over the years we became friends. I, like everyone else, was mesmerised by his deft manoeuvring as leader of South Africa. His cabinet appointments of Trevor Manuel and Kader Asmal were intuitive and ballsy. His partnership with Sowetan neighbour Desmond Tutu brought me untold joy.
This double act – and before long a triple act that included Mandela's wife, the bold and beautiful Graca Machel – took the success of the anti-apartheid fight in South Africa and widened the scope to include the battle against Aids and the broader reach for dignity by the poorest peoples on the planet.
'Time to set them free'
Mandela saw extreme poverty as a manifestation of the same struggle. "Millions of people . . . are trapped in the prison of poverty. It is time to set them free," he said in 2005. "Like slavery and apartheid, poverty is not natural. It is man-made and it can be overcome . . . Sometimes it falls on a generation to be great. You can be that great generation."
It certainly fell to Mandela to be great. His role in the movement against extreme poverty was critical. He worked for a deeper debt cancellation, for a doubling of international assistance across sub-Saharan Africa, for trade and private investment and transparency to fight corruption.
Indispensability
Without his leadership, would the world over the past decade have increased the number of people on Aids medication to 9.7 million and decreased child deaths by 2.7 million a year? Without Mandela, would Africa be experiencing its best decade of growth and poverty reduction? His indispensability can't be proved with math and metrics, but I know what I believe . . .
Mandela would be remembered as a remarkable man just for what happened – and didn't happen – in South Africa's transition. But more than anyone it was he who rebooted the idea of Africa from a continent in chaos to a much more romantic view, one in keeping with the majesty of the landscape and the nobility of even its poorer inhabitants. He was also a hardheaded realist, as his economic policy demonstrated. To him, principles and pragmatism were not foes; they went hand in hand. He was an idealist without naivety, a compromiser without being compromised.
Surely the refrain "Africa rising" should be attributed to Madiba – the clan name everyone knows him by. He never doubted that his continent would triumph in the 21st century. "We are not just the peoples with the oldest history," he told me. "We have the brightest future."
He knew Africa was rich with oil, gas, minerals, land and, above all, people. But he also knew that "because of our colonial past, Africans still don't quite believe these precious things belong to them". Laughing, he added: "They can find enough people north of the equator who agree with them."
Humility
He had humour and humility in his bearing, and he was smarter and funnier than the parade of world leaders who flocked to see him. He would bait his guests: "What would a powerful man like you want with an old revolutionary like me?"
Numbers of Irish people covered by health insurance fell by 62,000 last year
 
The number of people covered by in-patient health insurance plans has fallen by 250,000 since 2008
The number of people covered by private health insurance is continuing to fall, new figures released by the regulator for the sector show.
The Health Insurance Authority said today that there were 2.047 million people insured with plans that covered in-patient treatment at the end of September.
This represents a reduction of 62,000 over the same period last year.
Between June and September of this year the numbers with in-patient health insurance plans fell by 11,000.
Overall since the peak of the market at the end of 2008 the number of people covered by in-patient health insurance plans has fallen by 250,000.
Since September the cost of private health insurance has continued to rise, largely as a result of Government decisions.
Health insurers have maintained that the Government's move to reduce tax relief on health insurance in the budget in October and the Government's recent increase in stamp duty could see the net cost of subscriptions rise by 15 per cent next year.
Insurers have warned that subscribers will face even higher increases in premiums from January on foot of a Government announcement on private patient charges earlier this month which they maintain could add close to € 100 million to their costs.
The Department of Health told insurers that Minister for Health James Reilly had decided to stick with controversial proposed new rates for private patients treated in public hospitals to come into force from the beginning of next year.
The Minister had argued last summer that the Government's intention was that the new rates would generate only € 30 million in additional revenue next year. However insurers have disputed this projection. They maintain that a report on the proposed charges, which they commissioned from consultants Deloitte, forecast that the measures would cost them €115.5 million.
Some insurers have argued that the new rates could realise as much as € 130 million for the Government.
Father's sperm may carry his lifestyle memory
 
A father's sperm carries a "memory" of his lifestyle that can affect the health of the children he conceives, research suggests.
Scientists made the discovery after studying mice whose fathers lacked the essential vitamin folate.
Their litters were almost a third more likely to include animals with birth defects than those of mice not conceived by folate-deficient fathers.
The Canadian researchers found that DNA in the sperm of the male mice was sensitive to life experiences, especially diet.
They believe their findings have implications that go beyond the effects of not having enough folate.
"Our research suggests that fathers need to think about what they put in their mouths, what they smoke and what they drink and remember they are caretakers of generations to come," said study leader Dr Sarah Kimmins, from McGill University.
"If all goes as we hope, our next step will be to work with collaborators at a fertility clinic so that we can start assessing the links in men between diet, being overweight and how this information relates to the health of their children."
Folate, also called vitamin B9, is found in green, leafy vegetables, cereals, fruit and meats.
Mothers are known to need adequate amounts of folate in their diet to prevent miscarriages and birth defects such as spina bifida, caused by the incomplete development of the brain and spinal cord or their protective covering.
Taking a folic acid supplement before conception and during pregnancy to raise folate levels has been shown to prevent seven in 10 cases of the condition.
Much less is known about the way a father's diet can affect the health and development of his sons and daughters.
The new research, published in the journal Nature Communications, indicates that a father's folate levels may be as important as a mother's. It also raises the possibility that other aspects of his lifestyle, such as smoking, might have a significant impact on the children he conceives.
"Despite the fact that folic acid is now added to a variety of foods, fathers who are eating high fat, fast food diets or who are obese may not be able to use or metabolise folate in the same way as those with adequate levels of the vitamin," said Dr Kimmins. "People who live in the Canadian north or in other parts of the world where there is food insecurity may also be particularly at risk for folate deficiency. And we now know that this information will be passed on from the father to the embryo with consequences that may be quite serious."
The study showed that in mice paternal folate deficiency was associated with an increased risk of various kinds of birth defect.
Co-author Dr Romain Lambrot, from McGill University's department of animal science, said: "We were very surprised to see that there was an almost 30% increase in birth defects in the litters sired by fathers whose levels of folates were insufficient.
"We saw some pretty severe skeletal abnormalities that included both cranio-facial and spinal deformities."
The research shows that a father's sperm is susceptible to epigenetics – environmental effects that switch genes on or off and whose influence can be passed to future generations.
In effect, sperm carries a "memory" of a father's environment and possibly his diet and lifestyle choices, said the scientists.
ERSI research shows Irish hospitals treat mostly public patients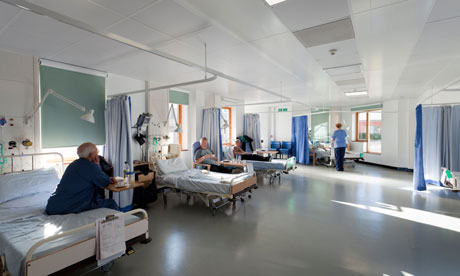 Medical card holders accounted for the majority of patients treated at 57 acute public hospitals across the country last year.
The research carried out by the ESRI examined activity in 57 public hospitals participating in the hospital in-patient inquiry scheme.
Figures released by the ESRI on behalf of the HSE also show that 83% of total discharges were public patients, that's a 6% increase since 2011.
The number of private patient discharges has been trending downwards since 2008.
There has also been a drop in the length of time people stay in hospitals.
The average length of stay in 2012 was 4.1 days which is a decrease of almost 5% since 2011.
The average acute in-patient length of stay ranged from 3.9 days in the HSE South area to 4.2 days in Dublin North East.
Professor Miriam Wiley, Head of the Health, Research and Information Department at the ESRI, says the figures are in line with international trends.
The ten coldest places on Earth
Scientists claim to have recorded a new lowest ever temperature on earth, but where is it and just where are the coldest places on the planet?
A team of scientists analysing 32-years worth of satellite data have claimed to have recorded a new record low temperature on earth. But what are the top ten coldest places on the planet?
The coldest places on the planet are, unsurprisingly, found in the Antarctic, in particular on an ice sheet known as the East Antarctic Plateau – where, according to Nasa, temperatures in several areas can dip below minus 133.6 degrees Fahrenheit (minus 92 degrees Celsius) on a clear winter night.
Due to the low temperatures and its seclusion the East Antarctic Plateau is rarely visited – but spare a thought for the residents of Oymyakon (Russian: Оймякон).
The town has a monthly mean temperature of −46C as the daily average in January, and is the coldest permanently inhabited place on the planet.
A team of scientists analysing 32 years of satellite data say they have recorded a new record low temperature on earth. But what are the top ten coldest places on the planet?
In at No 10 in our list is 10. Snag, Yukon, Canada -63C Snag is a village located near the Alaskan Highway in Canada. It holds the current record for the lowest ever temperature recorded in continental North America.
9. North Ice, Greenland -66C
North Ice was a research station of the British North Greenland Expedition (1952 to 1954) on the inland ice of Greenland. The station recorded the lowest temperature ever in North America on January 9th 1954.
8. Klinck research station, Greenland -69.4C
The Klinck research station is located within the Arctic Circle. Direct observations of temperatures as low as -69.4C have been made at the station
7. Verkhoyansk, Russia -69.8C
Verkhoyansk, Russia has around 1,434 hardy residents. In winter average monthly temperatures are around −45.4C, though lower have been recorded.
6. Oymyakon, Russia -71.2C
Officially recognised as one of the two coldest regularly inhabited places on the planet (along with number seven Verkhoyansk), the town of 472 people is known as one of the candidates for the Northern Pole of Cold
5. Mount McKinley, Alaska -73.8C
Denali, or Mount McKinley, the highest peak in North America, has long been considered the coldest mountain on earth. Winter air temperatures regularly fall to -40C, and lower have been unofficially recorded.
4. Amundsen–Scott South Pole Station -82C
A scientific research station in the southernmost place on earth the Amundsen–Scott South Pole Station has recorded temperatures below −73C
3. Dome A, Antarctic Plateau −82.5C
Dome Argus is an Antarctica plateau located near East Antarctica at 4091 meters above sea level. The coldest temperature ever recorded there was -82.5 C (or -116.5 F) in July 2005. It is the highest point of ice sheet in Antarctic region.
2. Russia's Vostok research station –89.2C
The Vostok Station is a Russian Antarctic research station at 3488 meters above sea level. It still remains officially the coldest place on earth having measured a bone shattering -89.2C (or -128.6 °F) on 21 July 1983.
And so to the coldest place on our earth.
1. Dome Fuji ridge East Antarctic Plateau –93.2C.
  A high ridge located between Dome Argus and Dome Fuji on the East Antarctic Plateau saw the lowest ever temperature on earth according to Nasa satellite data. As the temperature was not recorded directly, however, it is not counted as a new Guinness World record.
The new record low temperature smashed the previous low of minus 89.2C, set in 1983 at the Russian Vostok Research Station in East Antarctica.
Newly analysed data showed the temperature plunged to an astonishing -93.2C (-135.8F) in August 2010